The launch of glass futures highlights a crucial step in the development of China's financial derivatives
Speculators have recently been fixated on the share price of Luoyang Glass. The attention has put a strain on its chief executive officer Song Jianming, who is afraid that unusual fluctuations in the trading of shares will affect normal operations.
The State Council has approved the launch of glass futures trading at the Zhengzhou Commodity Exchange. In the past month, almost all the listed glass manufacturers, except for Luoyang Glass, have undergone fluctuations triggered by rumors about glass futures.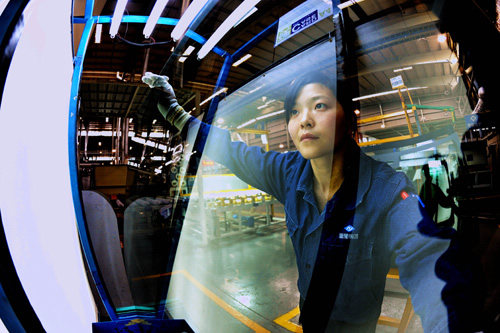 File photo of a worker checking glass products at a Fuzhou-based glass company in Fujian province. [Photo/Xinhua]
Different from these glass manufacturers, the Zhengzhou Commodity Exchange is mainly concerned with whether the trading system of glass futures is viable.
Since the start of China's futures market in the 1990s, China has followed on the heels of developed countries. By the first half of 2012, China had launched 26 futures products, encompassing bulk stock and agricultural products.
Lu Yong, an analyst from Guodu Futures, suggested that the launch of the world's first glass futures will have a significant impact on the glass industry and even the futures market.
The trading of glass futures in Zhengzhou Commodity Exchange would play a guiding role in the pricing of glass both at home and abroad.
Innovation
Lu believes the release of glass futures indicates that China has independent views on the development of financial derivatives. Instead of targeting exclusively the most prominent investors, the contract unit of glass futures is fixed at 20 tons, making it more convenient for all investors to complete transactions.
Even though there are as many as 3,400 glass companies in China, most distributors and deep-processing enterprises are very small. A large contract size will undoubtedly force small and medium-sized glass enterprises out of the futures market.
Moreover, it is more convenient for carriers to transport glass products and for investors to make deals. Trucks and railways are the most frequently employed means of transportation in the glass industry, and the loading capacities of trucks and railway wagons are 40 tons and 60-70 tons respectively.
In this sense, the contract size of 20 tons is reasonable. Furthermore, the average price of glass has been 2,000 yuan ($321) per ton in the last two years, and if the security deposit of 10 percent is included - the highest rate required by futures firms - the price rises to 4,000 yuan to trade one contract unit, which enables the glass futures to attract investors on a more extensive scale.
The glass industry is sensitive to ups and downs in the real estate and automobile industries. Currently, excessive production capacity together with real estate regulation policies have had a negative impact on the development of the glass industry. Glass futures will not only give manufacturers access to hedging, but also smooth price fluctuations.