Experts remain confident that gold demand in China will recover in the fourth quarter - hopeful that the country's new leadership might introduce economic stimulus measures and the holiday gift season prove a benefit - after falling in the third quarter.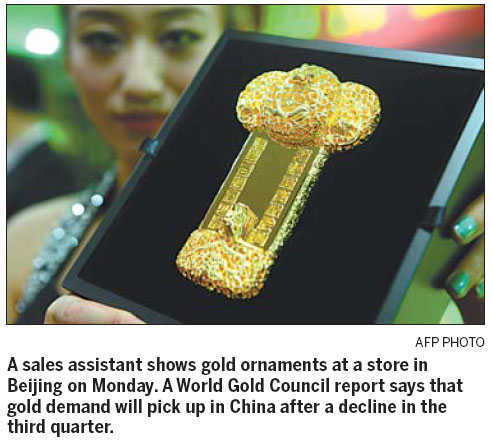 The World Gold Council said in a report on Thursday that demand for the metal in China dropped 8 percent, to 176.8 metric tons during the period.
The demand drop was part of a broader decline in global gold demand, which declined 11 percent to 1,084.6 tons from 1,223.5 tons in the same period last year. Global supply also dipped 2 percent to 1,188.3 tons.
The council's figures show that Chinese demand for jewelry dropped 6 percent as consumers delayed purchase plans, hoping for a price decline.
For the same reason, sales of bars and coins for investment purposes in the third quarter dropped 12 percent from a year earlier.
Despite the dip, consumer demand as a whole stayed 23 percent above the five-year quarterly average, confirming the long-term strength of the world's second-biggest gold market, the report said.
The sale of 18-carat gold slid the most in the third quarter, largely because of softening consumer demand for jewelry items. The slowdown also hurt the sale of gold bars and coins, investment analysts said.
"The slowing Chinese economy clearly had a harmful effect on consumer confidence. Investors also didn't want to strike big deals before the new leadership is elected," said Albert Cheng, the council's managing director in charge of the Far East region.
But he believes Chinese demand will recover in the fourth quarter, as the new leadership in the country is expected to roll out stimulus measures, and as the holiday gift-giving seasons approach.
He highlighted the country's annual Spring Festival season, when gold ornaments are chose usually chose as favorite gifts, and companies in China buy jewelry and other luxury items to give as bonuses to staff and as a way to thank customers.
The gold council said that Chinese investors' preference to buy into rising prices also contributed to the drop in investment demand, as the gold price weakened in July and August, and added that it expected demand to pick up as the markets strengthen.
Gold lost 3 percent to $1,652 per ounce in the third quarter, from $1,702.1 in the same period last year.
Xu Wenjun, deputy head of Shanghai Gold and Jewelry Trade Association, also said he expected a surge in jewelry demand during the rest of this year and start of next, as the Christmas and New Year holidays approach.
But he expected a shift in the way Chinese consumers buy gold products.
"Consumers now attach more importance to design when buying gold jewelry than ever before, but they are aware of prices as usual," said Xu.
Yan Fang, a sales consultant at a gold store in Shanghai's Yu Garden, one of the city's gold jewelry hubs, has also seen changes in buying habits, as consumers tend to buy gold jewelry in batches, as an investment.
"Fewer individuals are buying gold jewelry for themselves or as gift this year. However, we have frequently seen big orders, such as 500,000 yuan ($79,000) worth of gold rings being bought in a single purchase."
Investment managers said they had seen more demand for gold bars and commemorative coins, than for gold-backed exchange-traded products.
"An increasing number of investors realize that buying gold may add stability to their investment portfolios and they are seeking long-term yield rather than short-term profit," said Li Xiaodong, a wealth manager with China Construction Bank Corp.
Wang Zhe, head of Shanghai Gold Exchange, said in Hong Kong this week that it would be launching over-the-counter gold exchange-traded funds on Friday night.
An interbank market will also be opened that it will start with spot contracts and gradually offer forward contracts, said Wang.
Contact writers at gaochangxin@chinadaily.com.cn and wuyiyao@chinadaily.com.cn