Companies worldwide are now prone to leveraging cutting-edge technologies in their training and professional development in an effort to keep staff training on the same page with business goals.
"Above any other external factor - even the economy - CEOs expect technology to drive the most change in their organizations over the next three to five years," Pat Galagan, executive editor of the American Society for Training and Development, said at the ASTD 2012 China Summit held in Beijing on Thursday, citing the 2012 IBM CEO Study.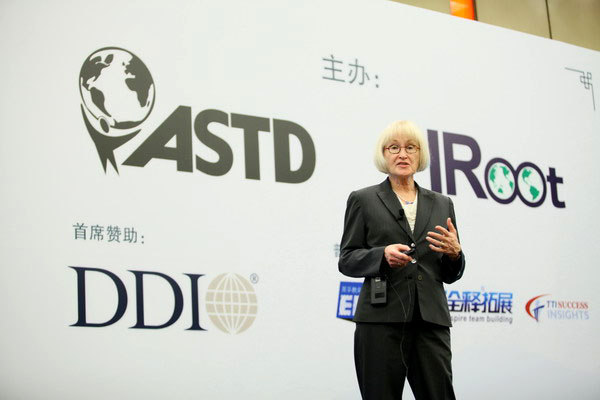 Pat Galagan, executive editor of the American Society for Training and Development, delivers a keynote speech at the ASTD 2012 China Summit held in Beijing, Nov 8, 2012. [Photo/chinadaily.com.cn]
The summit, ASTD's first trial in China, introduced the latest industry trends and internationally recognized learning practices to Chinese enterprises, as their training and development practices are gaining more recognition worldwide.
Chinese enterprises have impressed the world with top-notch corporate training and development practices this year, as more became winners of the ASTD Excellence in Practice Award, including the China Post Group, China Telecom, and Hong Kong-based Mass Transit Railway Corp.
China's booming economy has been accelerating the development of domestic enterprises with a growing appetite for talent, which could put innovative technologies on the fast track of corporate training development in the next few years.
Future corporate training will most likely be trail-blazed by technologies including cloud computing and natural user interface, which will enable access from anywhere and human-computer interaction in learning, said Chris Pirie, general manager of Sales and Marketing and Services Readiness of Microsoft Corp.
Even experts cannot picture exactly how the industry will be like in five years, but chances are corporate training and learning are going mobile, as face-to-face training is quite costly, Pirie said, adding that Microsoft has to spend at least $20 million annually just to get some of its employees worldwide together in its headquarter twice.
The number of mobile devices will exceed the world's population this year, according to Galagan, also manager of a senior leaders' practice community in ASTD.
"We invest significantly in training and professional development and expect our people to take advantage of the investment," said a report in T+D, ASTD's flagship magazine, citing Tom Finegan, CEO of Clarkson Consulting which is a 2012 BEST Award winner and spends more than $2,500 per employee each year.
ASTD's Excellence in Practice Award, together with its BEST Awards, recognizes organizations and enterprises every year that excel in the training industry and demonstrate enterprise-wide success through employee learning and development.
Founded in 1943, ASTD has evolved into the world's largest organization of training and development by registered membership.
ASTD 2013 summit will be held in Dallas in the United States on May 19 - 22.