Germany's clothing makers reckon they can match it with the fashion houses of Paris and Milan
The names say it all: Audi, Armani and Dior - Germany is the country of technical brilliance, while Italy and France are the countries of fashion flair.
That, no doubt, is the popular conception, but there are in fact more menswear brands in Germany than in Italy and France, and that some of the most talented designers were born in the land of Beethoven.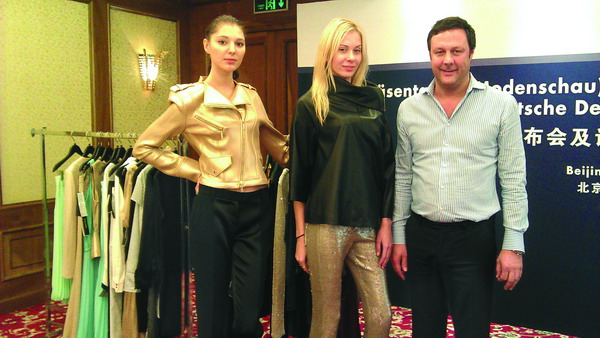 Markus Dejori, general manager of Blacky Dress Berlin, promotes his garment brands in China. [Photo/China Daily] 
German garment companies are hoping they can help correct that misconception as they step out of their traditional markets in Europe and turn to China. There, Italian and French luxury clothing brands have been dipping their hands deep into the pockets of the growing middle class, who have developed a seemingly insatiable taste for the good things in life, particularly those that are foreign made.
Claudia Carillon, a German garment consultant who has worked with both overseas and local companies in China for more than 30 years, says that a sense of style and finesse is not restricted to German cars, machinery and home appliances, despite the stereotypes.
"When you go to a department store in China, if you want to buy an iron, the lady will tell you to take the German one, because it represents quality. But if you want to buy a coat, no one will think about German brands."
Germany's garment industry is second after the auto industry in exports, Carillon says, bolstered by about 800 independent designers living in Berlin alone. Indeed, behind the French and Italian labels Chanel and Fendi stands no other than Karl Lagerfeld, a German. And the designer for the Italian fashion house Bottega Veneta is another German, Tomas Maier.
Chinese appreciation of luxuries stretches from cars, clothing and handbags to fancy houses, wine cellars and yachts, but Carillon says not every Chinese can afford to wear Prada or to drive a Rolls-Royce, and this is where German brands can come in.
Ralated: China to become 2nd biggest luxury market by 2017
"In China you have lots of high-end luxury brands but you have a middle class who also want to buy international brands. The medium-to-upper-level brands from Germany offer a way for younger or aspirational consumers to experience the brand sooner and develop an affinity for it."
Axel Steuck, sales director of German Jeans, a Cologne-based maker, says unlike many companies that rely heavily on good marketing, it is mainly good design that will make his company's products attractive to Chinese buyers.
"Chinese people love European brands because it is mainly the good design that works for them. Our design is inspired by the work wear of German coal miners, so it is sort of retro but stylish and practical at the same time."
In design, the treatment of material and in manufacturing, Steuck says, plenty of attention is paid to what the uninitiated may think of as secondary matters such as buttons and how garments will react when they are washed.
"We don't want to be compared with those established brands such as Gucci and Prada, because we are not targeting people who are simply looking for luxury goods. As a pure German product, we are a high-fashion brand looking for a certain group of people that really appreciate good design."
For Markus Dejori, general manager of Blacky Dress Berlin, price is a key point. His company's prices are generally 40 percent lower than those of the Italian powerhouse Gucci or the German brand Hugo Boss, he says, which gives options to Chinese consumers for whom top luxury brands are out of reach, but who have a certain sense of style.
"Some super rich people drive a Bentley or a Porsche, but there are people who can only afford to buy a BMW or a Mercedes. We are in the BMW group. We want our customers to grow with our brand, moving through the more expensive products as their means allow."