BEIJING - China's fixed asset investment rose 20.7 percent year-on-year to 29.25 trillion yuan ($4.64 trillion) in the first ten months of 2012, the National Bureau of Statistics (NBS) said Friday.
The growth was 0.2 percentage point higher than the rate logged in the first nine months, and in October alone, fixed-asset investment saw a 1.9-percent rise on a monthly basis, the NBS said in a statement.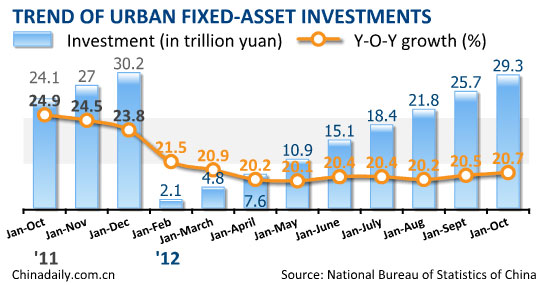 During the first ten months, investment in the primary industry amounted to 747.3 billion yuan, up 32.3 percent. Investment in the secondary industry totaled 12.88 trillion yuan, up 21.9 percent, while investment in the tertiary industry witnessed a 20.1-percent rise to hit 15.63 trillion yuan.
Investment in the nation's central region grew the fastest by 26 percent, followed by 24.2 percent in the west and 18.2 percent in the east.
Investment in property development climbed 15.4 percent to 5.76 trillion yuan during the period. Investment in residential property gained 10.8 percent to 3.97 trillion yuan, accounting for 68.9 percent of total property investment.
The NBS data also showed that in the first ten months, China sold 787.43 million square meters of commercial housing, down 1.1 percent year on year.