BEIJING - China's retail sales grew 14.1 percent year-on-year to 16.84 trillion yuan ($2.67 trillion) in the first ten months of this year, the National Bureau of Statistics said Friday.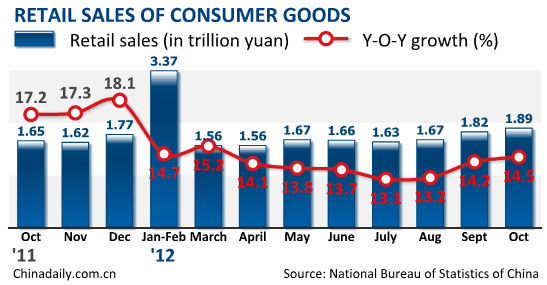 The figure was flat from the growth rate recorded during the January-September period, NBS data showed.
In October, retail sales, one of the country's key growth drivers, hit 1.89 trillion yuan, an increase of 14.5 percent over the same period last year, the NBS said.
The growth rate in October marked a seven-month high since March, according to NBS data.
Urban consumption expanded 14.5 percent from a year earlier to 1.64 trillion yuan in October, while rural residents spent 249 billion yuan, up 14.8 percent.
The catering sector reported 220.7 billion yuan in revenues in October, up 14 percent year on year, while the retail goods trade was valued at 1.67 trillion yuan, up 14.6 percent.
The data was issued along with a string of other key economic indicators. The NBS said Friday morning that the growth of the consumer price index, a main gauge of inflation, eased to 1.7 percent in October from 1.9 percent in September.