Bright Food seeks to make Weetabix best-known cereal brand in Asia
China's Bright Food Group Co Ltd is pledging to sell and promote the breakfast cereal Weetabix in China and the rest of Asia using its existing distribution channels and experience.
"The Weetabix brand will have access to all of Bright Food's distribution channels, including our more than 100,000 retail outlets, which will allow it to be brought to Chinese households more quickly," said Wang Zongnan, chairman of Bright Food, on Monday in London.
His words came after Bright Food completed its purchase of a majority stake in Weetabix Food Co, marking the largest overseas acquisition that a Chinese company has made in the food industry.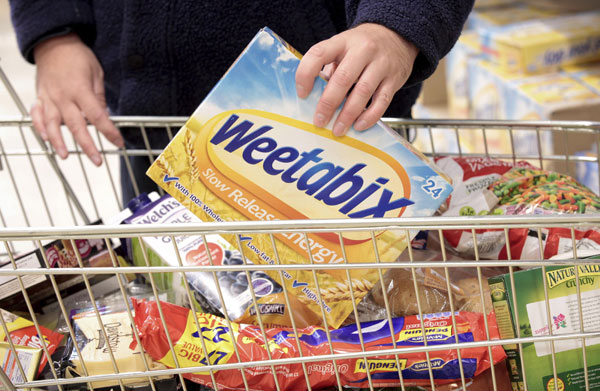 A shopper places a box of Weetabix into a shopping cart. China's Bright Food Group Co Ltd paid nearly $1.12 billion to acquire a 60 percent stake in the cereal brand. [JASON ALDEN / BLOOMBERG]
Wang said Bright Food "will make some changes or adjustments to suit Chinese people's tastes".
As part of the deal, Bright Food paid nearly 700 million pounds ($1.12 billion) to acquire a 60 percent stake in Weetabix and also agreed to cover 500 million pounds of Weetabix's debt.
The remaining 40 percent of Weetabix's shares continue to be held by the private equity group Lion Capital Management Group.
Besides Weetabix breakfast cereal, the 80-year-old company also owns the cereal brands Ready Brek and Alpen.
"Weetabix has a high quality portfolio of brands, the best production standards in its class and an excellent track record of innovation," Wang said.
"The biggest difficulty is finding a way to change the Chinese people's breakfast habits."
Chinese consumers prefer eating hot and traditional meals in the morning. Many are also in the habit of buying rice porridge or deep-fried dough from street vendors.
Various industry analysts said Bright Food will find it difficult to sell the well-known cereal brand in China.
However, Wang noted, "China has a population of 1.3 billion, and people are gradually changing their consumption habits."
Breakfast cereals will add one more healthy and nutritional option to what the Chinese can eat for breakfast, Wang added. He is confident Weetabix will sell better in China than other types of cereal.
China's cereal market has been growing in recent times as more and more people in the country gain an appetite for healthy packaged and convenient foods.
According to the research company Euromonitor International Ltd, the value of sales in China's breakfast cereal market reached $191 million in 2011 after it had been increasing by double-digit percentages for several years. This year, it is expected to increase by 12.5 percent.
Speaking of the acquisition, Wang said: "Weetabix is a famous international brand, so the acquisition signals Bright Food's entry into both the United Kingdom and global food markets."
Discussing the future, Wang said Bright Food will show respect toward the Weetabix workforce.
"We won't lay off employees after the transaction," he said.
Bright Food and Weetabix both have their own ways of doing business, Wang said. "We are faced with some difficulties," he said. Even so, "we will try our best to accomplish our goals in accordance with our strategy".
Giles Turrell, Weetabix CEO, welcomed the deal.
"We are delighted about our partnership with Bright Food," he said. "We are confident that, with Bright Food's support, we will be able to significantly strengthen our market position and expand our business internationally."
The Weetabix brand is based in Northamptonshire, UK, and has been manufactured and sold in Britain since 1932.
Lyndon Lea, a partner in Lion Capital, said Weetabix has performed well under Lion's ownership and has the potential to do even better.
The transaction does not mark the first time that Bright Food has expanded overseas.
In October 2010, Bright Dairy, Bright Food's subsidiary, spent 382 million yuan ($61 million) on a 51 percent share of the New Zealand milk powder producer Synlait Milk Ltd. In August 2011, Bright Dairy bought a 75 percent stake in the Australian company Manassen Foods.
Contact the writer at zhangchunyan@chinadaily.com.cn