Sohu.com Inc, a major Web portal in China, reported a 47 percent drop in its net income as a result of its slowing brand-advertising business, larger workforce and higher salaries.
The slowdown in Sohu's advertising revenues reflects a common situation among Chinese Internet portals, which have been feeling the pinch of tightening expenditures from advertisers because of a slowing economic climate, analysts said.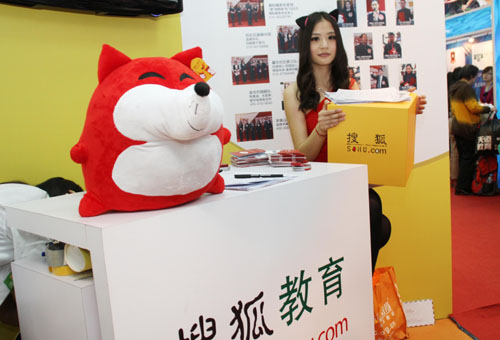 Sohu.com Inc's booth and mascot at an exhibition in Beijing in March. According to analysts, Chinese Internet portals have seen a slowdown in advertising revenue as advertisers tighten their budgets amid the sluggish global economy. [Photo/China Daily] 
Sohu's net income fell to $24 million in the third quarter from a year earlier, according to its financial report. Its revenues increased 23 percent, to $285 million, mainly driven by its online game business.
Belinda Wang, co-president and chief operating officer, said the company sees "some weakening signals from the auto sector where Japanese car makers cut spending as a result of a sharp decline in their sales volume" in the fourth quarter, but the effect "is expected to be offset by the contribution from other sectors".
Sohu's brand advertising revenue increased 2 percent year-on-year in the third quarter, to $78 million, under "solid demand from the FMCG (fast-moving consumer goods) sector and the recovery of the real estate sector", Wang said.
Li Zhi, senior analyst with domestic research company Analysys International Corp, said that while the growth rate is "very low", it's not a problem for a single company but the whole industry. Other Internet portals, which haven't yet released their third-quarter results, also are likely to see a slower advertising business, Li said.
"Web portals as a medium of online advertising have entered a phase of steadiness after years of quick development, and the economic slowdown also affects advertisers' willingness to spend on portals," she said.
China's GDP growth hit 7.4 percent in the third quarter, a low of more than three years. That was compared with 8.1 percent in the first quarter, and 7.6 percent in the second, according to the National Bureau of Statistics.
However, Sina Corp, China's biggest Web portal, may find its micro-blogging service, which has started to generate revenues, grow the fastest despite a slowing advertising business, Li added.
Charles Zhang, Sohu's chairman and CEO, said that Sohu's newly created sales team of its online video business "is bringing in results, and we expect fourth-quarter advertising revenues to be back on a growth track".
Sohu's online video business, which also makes money from advertising, is currently the third-biggest player in the market, measured by revenue, after Youku Tudou Inc and Iqiyi.com Inc.
The revenue of Sohu's search arm, Sogou, was $37 million in the third quarter, up 102 percent year-over-year, the company said.
chenlimin@chinadaily.com.cn