Key indicator shows expansion in output as market optimism returns
The economy regained some manufacturing momentum, according to the purchasing managers' index, which indicated an expansion in factory output.
The PMI hit 50.2 in October, up from 49.8 in September and 49.2 in August, the National Bureau of Statistics said on Thursday.
A reading above 50 indicates an expansion in manufacturing.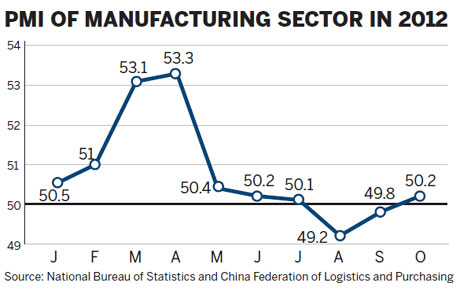 The upturn may provide fuel for more robust business policies in the coming months, economists said.
Another key indicator, the HSBC PMI - an index that focuses more on small and medium-sized businesses - also showed an eight-month high of 49.5 in October.
"The PMIs further supported our view that the pace of growth is gradually picking up," said David Fernandez, an economist at the Singapore Branch of JPMorgan Chase Bank.
The Shanghai Composite Index went up 1.7 percent to 2104.43 at Thursday close, the biggest advance since Oct 9, driving the week's gains up by 1.9 percent.
"The economy's growth has been steady, reflecting a slow but continuous rise in demand and more accommodative fiscal and monetary conditions," said Chang Jian, an economist with Barclays Capital.
"For the past three months, there have been small improvements in our exports as the number of overseas orders is climbing back slowly," said Qian Shaotian, sales manager at Shanghai Yuanzong Hardware Co.
Qian added that although the situation is getting better there is still a long way to go before the global economy improves.
Shi Jinchuan, dean of the Zhejiang University School of Economics, said the economy's overall situation is getting better although a great many small and medium-sized businesses are still struggling with the high cost of labor and materials, and sluggish demand.
Liu Ligang, chief China economist at the Australia and New Zealand Banking Group, said that "if the current upward trend continues, China's economic growth may hit 8 percent in the fourth quarter, and we are optimistic for the beginning of next year".
Annual inflation will be stable at about 2 percent, according to Liu. He did not expect any new cut in interest rates or the reserve requirement for banks.
Qu Hongbin, chief economist on China with HSBC Holdings, said: "We expect a continuation of the present policies to further boost domestic demand and counterbalance sluggish demand overseas and a gradual recovery in growth in the coming quarters."
Zhang Liqun, an economist with the State Council Development Research Center, a government think tank, said that some industries may have already started to expand too fast.
"To prevent reckless expansion, the government should recommend rational plans to the companies," Zhang said.
He also warned of a possible rebound in the price of commodities, as a result of "many countries loosening monetary policy".
Contact the writers at chenjia1@chinadaily.com.cn and yuran@chinadaily.com.cn