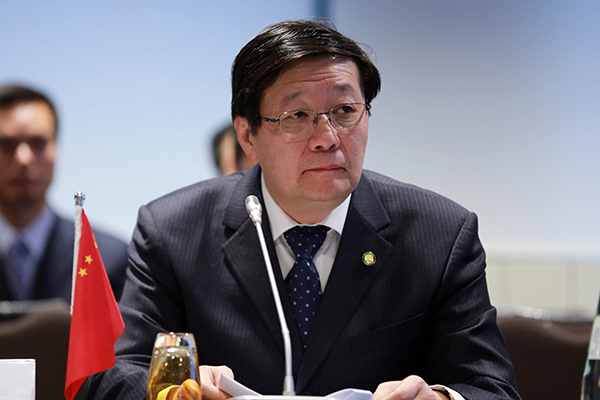 Lou Jiwei speaks at the annual meeting of the Asian Development Bank's Board of Governors in Frankfurt, Germany, May 3, 2016. [Photo/Xinhua]
The central government will provide financial support for corporate debt restructuring and training of laid-off workers, Finance Minister Lou Jiwei said at the annual meeting of the Asian Development Bank's Board of Governors in Frankfurt, Germany, on Tuesday.
The Finance Ministry's current priority, Lou said, is assisting China's supply-side reforms and alleviating the fallout from the painful process of shedding overcapacity and piled-up debt.
Subsidies will support the restructuring of corporate debt and help train laid-off workers for new jobs as the coal and steel industries see shutdowns or shake-ups, Lou said.
He said China has not subsidized coal, though it has been accused by other countries of dumping cheap steel products worldwide and disrupting the global market.
Subsidies are also being provided to the country's farmers, supporting tree planting and the use of organic fertilizers to help them shift to sustainable models, he said.
China has also stopped subsidizing diesel-fueled fishing boats and public buses, instead shifting money to clean-energy vessels.
Lou twice referred to Germany's successful transformation from "the sick man of Europe" to an economic powerhouse in the 2000s, to make his case that reforms incur short-term pain but reap long-term rewards.
"Germany seized the opportunity and pushed through structural reforms," he said. "As we all know, if we do not reform, we'll fall off the cliff."
In the early 2000s, Germany's economy had gone from being a post-World War II miracle to a laggard in Europe after its bloated social welfare programs and narrow labor rules eroded the country's competitiveness. By 2003, then-chancellor Gerhard Schroeder was engaged in an overhaul.
In Lou's view, Germany's reform of its social welfare system and improvements in the flexibility of its labor market laid the foundation for the nation's resilience in the face of the global financial crisis.
Wei Shangjin, chief economist of the ADB, agreed that money should not be used to shore up unprofitable companies in industries plagued by overcapacity, but rather should facilitate the formation of a "new economy" that includes channeling laid-off workers into other jobs.