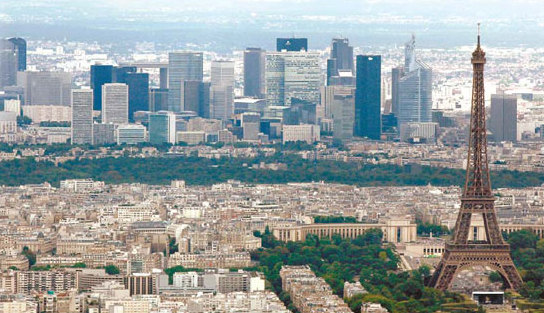 The Eiffel Tower and La Defense business district are seen in an aerial view of Paris. From having no presence in 2011, China has become the second-biggest foreign investor in the French capital's property market. [Photo/Reuters] 
China becomes French capital's second-largest property investor
China Investment Corporation, the country's $410-billion sovereign wealth fund, is eyeing investment opportunities in the high-end property market in Paris as it seeks higher yields than those from traditional financial assets, according to French property experts.
"We are in talks with CIC, which has expressed an interest in investing in the prime property market in Paris," said Alexandra Li, head of Asia Business Development at real estate company Jones Lang LaSalle, or JLL, in France.
From zero presence in 2011, China has grown into the second-biggest foreign investor in the property market in the French capital.
The value of Chinese investment in Paris accounted for nearly 15 percent of the total foreign property investment made in the first three quarters of this year, after Qatar's 30 percent, according to a new report by JLL France.
Earlier this year, a large State-owned institutional investor from China bought a property portfolio owned by French real estate investment trust Eurosic for 508 million euros ($659 million). The transaction has been the largest deal in the Paris property market so far this year.
The portfolio purchased by the Chinese investor includes two office buildings in the center of Paris. One is located in the heart of the city's central business district and is fully leased to a major law firm. The other property is located near the Gare de Lyon railway station, according to people familiar with the deal.
"Chinese investors tend to focus on the top-tier property segment in Paris at the best locations and with good liquidity. And what we can expect is that this trend will continue in the future," said Virginie Houze, head of research at JLL France.
Houze noted that investment in office buildings in Paris offers an attractive risk premium, as the yield from the prime property market is 4.75 percent, compared with 4.5 percent from French treasury bonds.
"The pattern of the investment yield is likely to remain flat with a slight increase in the future due to the very tight supply of prime properties. This makes Paris a defensive type of investment," she said.
CIC has been under pressure to diversify its huge investment portfolio after it posted a loss of 4.3 percent from its global investment portfolio in 2011. The fund has reportedly ceased investing in European government bonds and is shifting its focus to overseas real estate and infrastructure.
CIC's investment in Deutsche Bank's headquarters building in London is the most recent example of the fund's shift in its investment strategy.
Analysts said that Chinese investors will remain active in the European property market as the region's institutional investors are under liquidity pressure to sell their properties for cash.
The relatively high market liquidity has made Paris an attractive investment destination for large Chinese institutional investors although the yields may be lower than in emerging markets, analysts said.
Houze said that the Paris property market has seen a rebound in transactions worth more than 500 million euros, which has mainly been driven by investment from sovereign wealth funds from China and the Middle East.
"It is impressive to see a variety of players from Asia and the Middle East that have captured big market shares, especially in large transactions," she said.
Total investment in the property market of the Greater Paris Region reached 7.3 billion euros in the first three quarters of this year, a 17 percent increase from the same period in 2011, according to JLL.
lixiang@chinadaily.com.cn