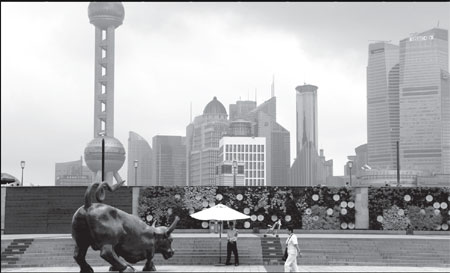 A riverside view of Shanghai's central financial district. Mainland rating agencies are making their steps to Hong Kong. Qilai Shen / Bloomberg
Mainland credit rating agencies have taken their first stride toward international expansion, led by China Chengxin International Credit Rating Co Ltd (CCXI) which established its first overseas branch in Hong Kong in July.
The China Chengxin (Asia Pacific) Credit Ratings Company Ltd office in Hong Kong represents the first overseas expansion of its parent CCXI. Established in 1992 with the approval of the People's Bank of China, CCXI has rated over 9,000 mainland corporations, banks and financial institutions.
"The overseas expansion of mainland credit firms is aligning with the opening of the mainland capital market as (more) mainland firms need to raise capital in (expanding their operations) overseas," China Chengxin (Asia Pacific) Managing Director Philip Li told China Daily in an interview. "When more mainland enterprises need to raise capital through debt issuance or bank lending, they will need more credit rating services," he said.
In addition to the issuer demand, there is also demand for credit rating services offered by mainland credit rating agencies from the investor perspective.
"More investment funds are interested in investing in mainland stocks and debts issued by mainland companies because of the country's economic growth and yuan appreciation prospect. They need more credit rating information based on the accepted international credit rating standard in order to decide whether or not to invest in yuan-denominated bonds," Li said.
China Chengxin (Asia Pacific) has received the Type 10 licence (for providing credit rating services) from the local regulatory watchdog Securities and Futures Commission (SFC) in June. According to the cooperation terms between Hong Kong SFC and Europe Market and Regulation Committee, the credit rating released by China Chengxin (Asia Pacific) can also apply in the European Union countries, thus providing an immediate boost to its international ambitions.
Li assured that the rating assigned by China Chengxin (Asia Pacific) would be different from the mainland rating standard used by CCXI and that all rating assignments will be processed in Hong Kong. "We will adopt the international standard of relying on quantitative methodology in assigning a rating to ensure international investors' confidence. Our rating job will be in compliance with the SFC's code of conduct."
In the interview, Li highlighted Hong Kong's role in the internationalization process of the mainland credit rating industry.
'Hong Kong plays a very vital role in this financial infrastructure building process," said Li. "The city has a robust bond market that already can elicit market demand and supply. The city's financial products' settlement and clearing facilities are excellent."
"Hong Kong is the ideal destination for our international expansion path. The city is part of the country now, yet economically Hong Kong is independent from the mainland. While the city's business cultures are similar to the mainland, it is an international financial center where international business practices apply," Li reckoned.
CCXI's arrival in Hong Kong marked China's attempt to increase its influence in international ratings, a sign of its frustration with the ratings assigned to its sovereign debt and its major state-owned-enterprises by the international agencies. This is because a lower credit rating will incur additional funding costs for mainland enterprises.
The five main mainland accredited credit rating agencies in the industry include: CCXI, Shanghai Far East Credit Ratings Co Ltd (SFE), Dagong Global Credit Rating Co Ltd (Dagong), China Lianhe Credit Rating Co Ltd (Lianhe) and Shanghai Brilliance Credit Rating & Investors Service Co Ltd (SBCR). According to mainland government's official estimates, there are an additional 68 domestic rating agencies operating in their respective niche markets.
However, the credit rating assigned by the mainland market players has attracted little international attention because the agencies operate under Chinese regulations.
Since the outbreak of the 2008 financial crisis, the global financial market has been dissatisfied with the US-dominated credit rating agencies that have been unable to detect the financial risks associated with structured financial products that led to the collapse of US investment bank Lehman Brothers. The mainland's credit rating agencies have questioned the monopolistic position of the US credit rating agencies in the industry.
"The current global credit rating market is being monopolized by US-based Fitch Ratings, Standard & Poor's and Moody's. When more credit rating agencies from other countries obtain a greater market share, the global credit rating market can be developed more reasonably."
"Moreover, more credit rating agency choices can reduce the concentration risk for bond issuers and international investors by providing additional reference choices for them," Li said.
Looking ahead, China Chengxin (Asia Pacific) will concentrate on its rating job in the city, but it is not eager to expand its business in London and New York.
"We will first serve the local and mainland issuers as their demand for credit rating services are already tremendous. Our relationship with debt issuers, investment fund managers and underwriters are good so it can make our jobs easier."
"We will exercise prudence in considering whether to apply (for) a licence in US and other European countries. This is because any rejection by the relevant regulatory authorities will create more future workload for us if we want to apply for the licence again," Li cautioned.
Dagong had applied to enter the US credit rating market but was turned down by the US Securities and Exchange Commission in September 2010.
oswald@chinadailyhk.com