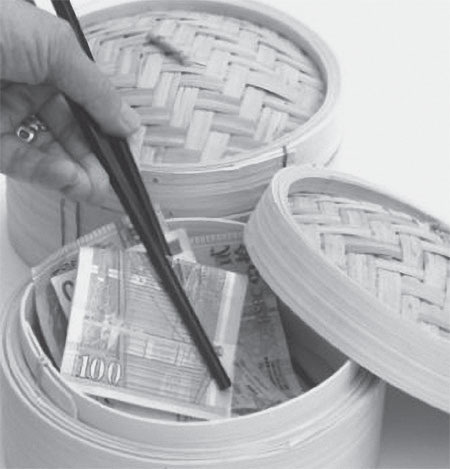 Yuan-denominated bonds, commonly known as dim sum bonds, is about to be more vibrant as mainland-based credit rating agencies may soon start dim sum bond ratings in the city. Provided to China Daily 
HK's dim sum bond market infrastructure building is making more progress as mainland credit rating agencies may soon start yuan bond ratings in city. Oswald Chen reports.
"Our major market niche lies in the credit rating of the dim sum bonds sold in the city. With our research support from our mainland staff, we are confident that we can rate the dim sum debts prudently based on the issuers' internal control and corporate governance standards," China Chengxin (Asia Pacific) Credit Ratings Company Ltd Managing Director Philip Li told China Daily in an interview.
"Credit rating is the process of standardizing the debt issuers' credit information and this is very important to create a liquid secondary dim sum bond market in the local offshore yuan market," Li added.
Li assured that the rating assigned by China Chengxin (Asia Pacific) would be different from the mainland rating standard used by its parent company and all rating jobs will be processed in Hong Kong. "We will adopt international standards and rely on quantitative methodology in carrying out the rating to assure international investors' confidence. Our rating will also be in compliance with the Securities and Futures Commission's (SFC) code of conduct," he said.
China Chengxin (Asia Pacific), a local subsidiary company of the mainland-based China Chengxin International Credit Rating Co Ltd, has received the Type 10 license (for providing credit rating services) from the local regulatory watchdog SFC in June. According to the cooperation terms between Hong Kong's SFC and the Europe Market and Regulation Committee, the credit rating released by China Chengxin (Asia Pacific) can also be applied in the European Union countries.
Li said that China Chengxin (Asia Pacific) can leverage on its expertise knowledge of the mainland companies to conduct dim sum bond rating jobs. "More companies are considering issuing dim sum bonds. However, some of these companies are unheard of in the capital market. Therefore they need more credit rating services to help them more easily market (their dim sum bonds) in the capital market."
The issue of credit rating becomes very important for mainland or overseas companies which issue yuan-denominated bonds in Hong Kong, as the dim sum bond market has been growing rapidly in recent years
According to the Hong Kong Monetary Authority figures, dim sum bond issuance in the first seven months of 2012 amounted to 79 billion yuan, a 50 percent increase compared to a year ago. Approximately 261 billion yuan of dim sum bonds have been issued in the city since 2007- making Hong Kong the world's largest offshore yuan-denominated bond issuance center.
The city also possesses the largest yuan liquidity pool in the world outside the mainland- as the city's yuan bank deposits plus yuan-denominated certificates of deposits totaled nearly 700 billion yuan as at the end of July representing an annual increase of 5 percent from the end of 2011, HKMA said.
Looking at the local offshore yuan-denominated bond market, an investor can see that it has been bestowed with strong yuan liquidity as well as robust investor demand appetite and adequate supply of bond issuers. More than that, the market is also endowed with a longer bond maturity that can deepen the market development. The Ministry of Finance's (MOF) fourth batch yuan-denominated bond issuance in Hong Kong marked the formation of a long yield curve in the offshore yuan bond market when the MOF sold 15-year-tenor long dim sum bonds for the first time in June.
Though the market is endowed with such blessings, it is not without hindrances. It has been previously exposed that the dim sum debts issued in the city generally are lacking covenant protections as reflected in its poor level of operational disclosure compared to the typical US high-yield bonds.
Another hurdle is the lack of credit rating of these yuan-denominated bonds in Hong Kong. The Hong Kong Investment Funds Association (HKIFA) statistics showed that around 40 percent of the local-issued dim sum bonds have no credit rating. An unrated dim sum bond and a poor covenant protection level may spell higher funding costs for the debt issuers.
"More dim sum bond credit rating assigned by mainland credit agencies will enhance the investor base for local dim sum bonds because some investment funds managers are restricted by the mandate that they cannot invest in unrated bonds," Credit Agricole Fixed Income Senior Strategist Frances Cheung told China Daily.
"When more credit ratings are assigned to those yuan-denominated bonds, they will spur more demand for these bonds and the subsequent market trading of the dim sum bonds. Hence this will invigorate the secondary market of the local offshore yuan bond market." Cheung added.
Contact the writer at oswald@chinadailyhk.com