Tech giant, Apple computers announced Tuesday morning a new addition to its genre breaking iPad tablet computer line, the iPad Mini, as well as a new fourth generation iPad.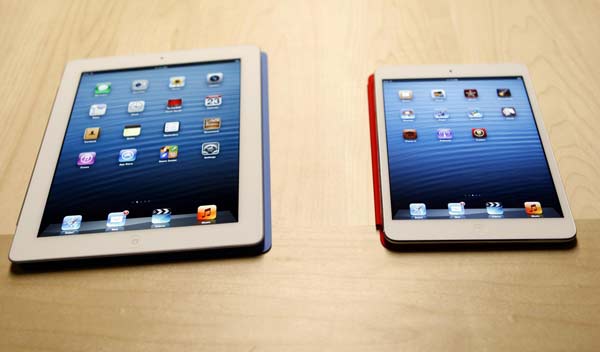 The new iPad mini is shown next to a full sized model at an Apple event in San Jose, California October 23, 2012. Photo/Agencies
At the event in San Jose Apple CEO Tim Cook took to the stage to talk about the company's recent success with the iPhone 5 and new third generation iPad. According to Cook and Apple, Apple has sold a total of 100 million iPads in the two years since the devices were released.
Taking time to talk about Apple and Apple's previous focus on education, Cook announced an updated version of iBooks Author, Apples' own book/textbook publishing software.
During the presentation of the iPad Mini, Apple senior vice president of worldwide marketing Phil Schiller took jabs at Apple's competitors, by consistently touting Apple's use of made-for-iPad apps instead of stretched out versions of mobile applications. There are currently over 275,000 applications specifically designed for the iPad.
Known by tech focused media before the official announcement the iPad Mini's information had been slowly leaked out from the manufacturer. Chinese websites such as NetEase and Tencent had already had previously posted photos of alleged iPad Mini parts.
The new iPad Mini will sport a 7.9 inch screen compared to the 9.7 inch screen found on the iPad 2. Comparatively the iPad Mini has similar specifications to the second generation iPad, the iPad 2.
According to Apple, the iPad Mini and the new fourth generation iPad will be shipped on Nov 2. A Chinese launch window is still unknown but Hong Kong will be part of the initial worldwide launch.
The iPad Mini will cost $329, while the fourth generation iPad will cost $499.
Ending the San Jose event, Cook returned to stage to thank the members of the media that arrived as well as take time to talk about how Apple faired in 2012. He summed it up in one sentence.
"This has truly been a prolific year in innovation for Apple," said Cook.
Contact the writer at ericjou@chinadaily.com.cn