E-commerce firm woos new online shoppers with large promotion
For Chinese online shoppers, this year has been marked by eye-catching promotions from e-commerce players.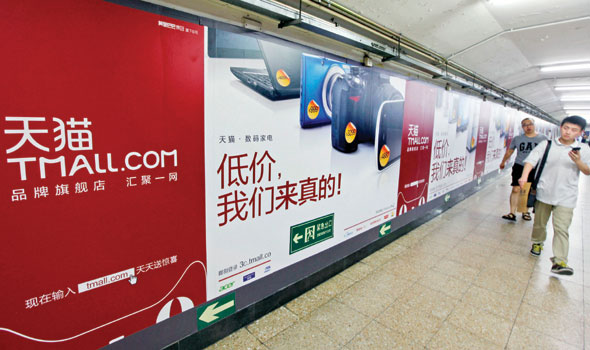 A Tmall.com advertisement in a subway station in Beijing. The company, a unit of Alibaba Group, will stage a promotion in which 10,000 online vendors from three of the group's online shopping arms will sell products at half-price on Nov 11. [Photo/China Daily] 
One more, which may be the biggest of its kind, is set to come next month from Alibaba Group, the biggest e-commerce company in China.
The company will stage a promotion in which 10,000 online vendors from three of the group's online shopping arms will sell products at half-price on Nov 11. The promotion is targeting non-online shoppers, hoping to persuade them to move from shopping carts to computers.
"The significance of the event doesn't lie in regular online shoppers, but people who never try online shopping," said Wang Yulei, vice-president of the marketing department of the shopping website Tmall.com.
It will be the fourth time that Alibaba Group has held the Nov 11 promotion.
About 194 million people had made an online purchase by the end of last year in China, out of a total of 513 million Internet users, according to the China Internet Network Information Center.
Online shoppers spent 782.6 billion yuan ($125.1 billion) last year, representing 4.32 percent of total retail sales in the country, up from 1.16 percent in 2008.
As online shopping takes off, e-commerce players have staged promotions, or sometimes price wars, to lure users, hoping to gain the upper hand in a cut-throat battle.
From April to June, almost all of the top 10 e-commerce players offered large discounts and rebates to users. In August, Beijing Jingdong Century Trading Co, also known as Jingdong Mall, triggered a price war targeting home appliances.
But online shoppers later accused the company of trying to lure more customers, rather than giving discounts.
Wang of Tmall.com said online vendors cheating consumers by claiming to offer low prices at the coming event will be punished.
In last year's event, transactions worth 3.36 billion yuan ($533 million) were made on Tmall.com (then called Taobao Mall).
In comparison, Hong Kong registered HK$31.2 billion ($4 billion) in retail sales in September 2011, according to official figures.
Wang said the sales volumes on Tmall.com in the coming promotion will "surely be bigger than last year's". The vendor, which sold goods worth 40 million yuan, the highest figure among all vendors, at last year event, expected to see transactions of 100 million yuan this year, Wang said.
Some analysts warned during previous price wars that frequent promotions may overstretch consumers' buying capacity. But Lu Bowang, president of China IntelliConsulting Corp, a market research company, said of the coming event: "A price war targeting home appliances may overstretch consumers' capacity because they don't buy goods of this kind frequently, but products like clothes, electronics and the like will be just fine."
Jingdong Mall and Tencent Holdings Ltd, China's biggest Internet company by sales, both started promotions this month. Jingdong will continue to offer them next month and promotions of this kind have largely boosted its sales, it said in an e-mail.
China's online retail market registered total sales of 278.8 billion yuan in the second quarter, an increase of 45 percent year-on-year, according to domestic research company Analysys International.
Taobao.com and Tmall.com, both owned by Alibaba Group, jointly had 76 percent of the market. Jingdong Mall ranked second with sales of 15 billion yuan, taking up 5.5 percent of the market. Tencent ranked third with 4.5 percent.
China is expected to overtake the United States to become the largest online shopping market next year, Li Jinqi, head of the department of electronic commerce and information at the Ministry of Commerce, said earlier.
chenlimin@chinadaily.com.cn