Neighbor hopes to promote economy by attracting more foreign visitors
The Democratic People's Republic of Korea is improving its infrastructure in the hope of attracting more Chinese tourists, which show Pyongyang's desire to tap into China's booming tourism market, according to senior tourism officials from the DPRK.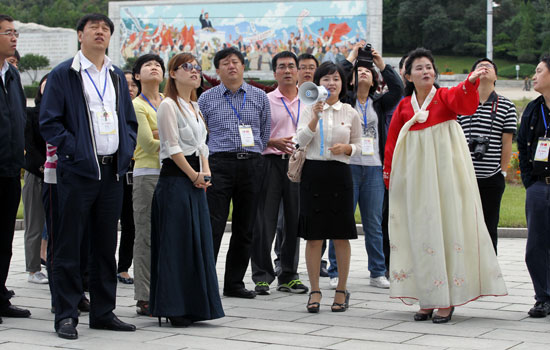 Chinese tourists, accompanied by local tour guides, look at the Arch of Triumph in Pyongyang, Democratic People's Republic of Korea, in September. [Photo/China Daily]  
Hong Yin-chel, head of the publicity bureau of the DPRK national tourism administration, noted that the DPRK offers a wide variety of tourist attractions ranging from its spectacular natural beauty to cultural and religious heritage.
He made the remarks at an economic, trade, culture and tourism exhibition held by China and the DPRK in the border city of Dandong in Liaoning province.
"We are trying to promote the modernization of tourism facilities and have achieved great results. We welcome tourists from the whole world and especially from China," he said.
The number of Chinese tourists traveling to the DPRK has shot up over the past two years. Around 60,000 to 70,000 Chinese tourists visited the country last year, according to Sin Kyong-jin, head of the DPRK national tourism administration's Dandong office.
"The turning point in the tourism market appeared in 2010, when China listed the DPRK as a tourist destination country. As a result, many travel companies started to explore this mysterious market," said Yang Chunkai, manager of China International Travel Service in Dandong.
Travel to the DPRK used to be a small business and was restricted to Dandong residents, and the DPRK was not positive about it, Yang said.
He added that he expects his company to send 40,000 tourists to the DPRK this year, up from 20,000 in 2010.
Huang Hua, manager of Dandong-based Liaoning Yalu River International Travel Service, said the recently established company serves tourists from across China.
Analysts said that the DPRK has shifted its focus from military to economic development since 2007, and is focusing on developing light industry, agriculture and services.
"The tourism industry needs low input but makes quick profits. This is in line with the DPRK's desire to make safe money as soon as possible," said Lu Chao, a specialist in Korean Peninsula studies at the Liaoning Academy of Social Sciences.
He said the cross-border tourism industry accounts for around $200 million to $300 million of Sino-DPRK trade, a figure that keeps rising.
China is the DPRK's biggest trade partner. Statistics show that bilateral trade increased 62.4 percent year-on-year to $5.64 billion last year.
"Because this market is just opening up, the DPRK will retain a unique charm for Chinese tourists for years, and especially among those in their 50s. They have good impressions about the country due to the popularity of movies and songs from the DPRK in their youth," he explained.
Furthermore, the cost of traveling to the DPRK is also relatively competitive, with four-day tours from Dandong to Pyongyang priced at about 2,500 yuan ($400).
To attract more tourists, travel agencies from both countries have developed a package of new products.
Train tours between Tumen in Jilin province and Mount Chilbo in the northeastern DPRK started this April and, since early this year, Chinese tourists can even drive by themselves to Pyongyang from Yanji, according to local tourism officials.
The DPRK also launched its first charter flight from Pyongyang to Yanji in July.
The DPRK has also simplified its visa procedures and Chinese tourists only need to provide a passport.
Tourism industry experts said that as per capita disposable income in China passed the $3,000 mark last year, the tourism industry will now enter a period of rapid development.
James Macgregor, a tourism expert with the United Nations Development Programme, expressed confidence in the development of the tourism industry in Northeast Asia.
"This region represents one of the fastest growing tourism destinations in the world. The potential for establishing cross-border tourism routes is great with increasing demand of China's and other countries' markets," he emphasized.
Choi Hoon, director of the UNDP Tumen Secretariat, said the tourism industry is a good choice for the DPRK, adding that cross-border tourism would enhance regional prosperity and security.
However, industry insiders complained that the DPRK's infrastructure is not ready to handle more international tourists.
wuyong@chinadaily.com.cn