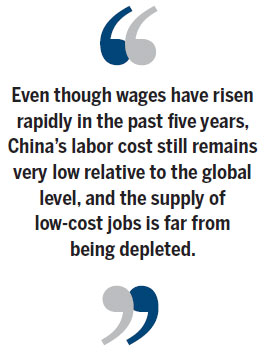 Other demographic trends are evolving to sustain China's advantage
One of the main reasons for China's rise over the past three decades has been the competitive advantage it has received in having a seemingly endless supply of low-cost labor.
However, recent data reveal two statistically indisputable truths about China's workforce.
First, the cost of labor in China is rising, with the average wage more than quadrupling since the millennium. The annual wage doubled from 20,856 yuan ($3,279, 2,628 euros) in 2006 to 41,799 yuan in 2011.
Second, China's population is rapidly aging. Comparing 2011 data with 1982 data, the percentage of the population aged up to 14 fell from 33.6 percent to 16.45 percent, while the proportion of the population aged over 65 rose from 4.9 percent to 9.1 percent.
Both these trends are set to accelerate in the coming years, leading to fears that China's demographic dividend is about to disappear.
This echoes the argument that China is approaching a Lewis turning point - based on the model by Nobel Prize-winning economist Arthur Lewis -where surplus low-cost labor is depleted, and wages and benefits increase.
The argument follows that China will lose its labor advantage, and lose its ability to compete with other countries such as Vietnam and Indonesia in low-cost manufacturing, an area it has dominated in recent decades.
I believe, however, China's demographic dividend will evolve and the labor bonus will continue for some years to come.
Even though wages have risen rapidly in the past five years, China's labor cost still remains very low relative to the global level, and the supply of low-cost jobs is far from being depleted.
The average annual wage of $52,607 in the United States in 2011 was more than eight times that of China.
Even compared with most developing countries, such as the other BRICS nations, China's wages are low, and its associated benefits lag far behind.
Aggressive forecasts, such as those by the Boston Consulting Group, see manufacturing wages in China rising to only $4.41 per hour in 2015, compared with $26.06 in the US.
Pension coverage in China is also low, and the pensions of 250 million migrant workers are often neglected.
In addition, basic healthcare provision, often taken for granted in developed countries, is low in China and legal protection of workers' rights is insufficient. Employees are sometimes dismissed without notice or clear reason, and receive poor compensation.
These factors all contribute to the low labor costs and provide companies with flexibility that would not be possible in a country with better worker protection.
The poor labor situation has aroused concerns and has been improved greatly in recent years, but there is still a long way to go before reaching the standard of developed countries, and even that of most developing ones.
China's labor supply is to peak in 2015, according to the United Nations' estimates. However, there are several policy options that could boost the size of the working population as China goes through a demographic shift.
For example, China's family planning policy is likely to be revised after its implementation more than 30 years ago. Possible changes could lead to a new cycle of labor in China 20 years later. Increasing the retirement age could also increase labor supply.
Another factor is that China's labor advantage is tilting toward more skilled workers, and the quality of labor is improving. With the major expansion of college education and significant improvement in continuing education and on-the-job training in the past decade, China has built up a large pool of skilled labor to move up the value chain.
According to the Ministry of Education, in 2011, a total of 7.99 million university or college graduates and 430,000 postgraduate students joined the labor force. That's an almost fivefold increase since 1998.
Finally, China's labor bonus also means a massive domestic consumers' market, as an increasingly consumption-driven economy evolves.
All these factors combine to provide companies with low labor costs and will continue to make China more competitive on a global level. China will not lose this labor bonus in the coming decades. Rather, in line with China's broader economic strategy, its labor bonus will evolve and ultimately be rejuvenated on a different level.
The author is chief economist at Haitong International Research. The views do not necessarily reflect those of China Daily.
(China Daily 10/12/2012 page10)