Protectionism is rearing its ugly head in many countries struggling to create jobs for their people, boost business and get fresh capital.
But World Trade Organization director-general Pascal Lamy thinks protectionism's ill-effects have been greatly exaggerated - for now.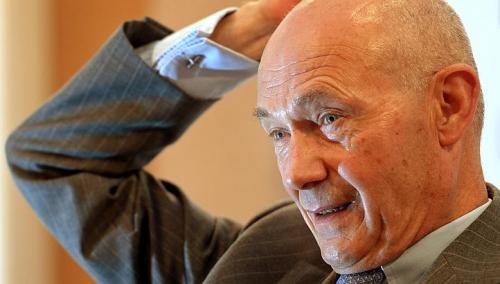 If China's economy were not what it is today, the world would be worse off, says Pascal Lamy. [Photo / asianewsnet.net] 
Lamy, 65, was speaking to The Straits Times last month, ahead of this year's Singapore Global Dialogue, a yearly pow-wow on strategic security issues organized by the S.Rajaratnam School of International Studies.
In fact, he stressed: "If China's economy were not what it is today, the rest of the world would probably be worse off."
Related reading: China takes up 'sizeable portion' of global growth
For one thing, he says, only 3 percent of total world merchandise trade today, or $546 billion, is currently affected by protectionism.
Lamy defines protectionism as the net fallout between trade-restrictive and trade-friendly measures put in place by the WTO's 157 member countries, whose latest entrants are Russia and Vanuatu.
For another, bad press notwithstanding, in fact the leaders of most countries understand that protectionism doesn't work because their economies are so intertwined today.
Technology has changed the pattern of global trade fundamentally in the past 20 years. Countries are now more dependent on one another for goods and services to meet shortened and increasingly frenzied manufacturing cycles, to meet growing global demand.
As an example, he says, about 40 percent of any exported product consists of imported material too. That is double the imported content of just 20 years ago. "So," he stresses, "shooting on your imports today means shooting on your exports too. That is why protectionism does not protect jobs."
Without China, the world would be "far worse off" economically, because the dragon is importing so many of the world's products that China's rate of growth in imports has been between 15 percent and 20 percent a year for the past 10 years.
Still, the WTO is monitoring pockets of protectionism around the world, despite their minimal effects on global trade for now. That's because creeping trade restrictions are like "bad cholesterol" - hard to detect in small amounts but heart-stopping if allowed to accumulate.
But for now, he stresses, the world's trade arteries are still fairly clear.
What everyone should really focus on instead, is how to grow their economies for the future.
One reason for the global economic slowdown today, he argues, is that developed countries don't know how to deal with the shift of economic power from the West to China, or what he calls "this big rebalancing of the planet".
For example, the United States has a wrong view of China: "To the US, the rise of China was economically more a challenge than an opportunity, more a threat than a good thing."