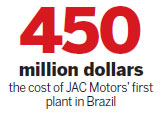 Anhui Jianghuai Automobile Co Ltd has become the latest Chinese automaker to go ahead with a local production project in Brazil - the world's fourth-largest automobile market - to avoid the high taxes on imported vehicles.
Brazil's Industry Minister Fernando Pimentel has confirmed JAC Motors' plans, saying that the project, which was first discussed a year ago, will start construction on Nov 28 in Camacari in the state of Bahia, Xinhua News Agency reported.
The $450 million facility, the company's first in South America, is expected to be operational by the end of 2014, with an annual production capacity of 100,000 units, the company said in a statement.
Pimentel also said that another Chinese automaker, Chery Automobile Co, plans to set up a plant in Sao Paulo.
Last month, Beiqi Foton Motor Co Ltd - one of China's major commercial vehicles makers - said that it will invest $300 million to build a plant in Brazil.
The light-duty truck and minivan plant, which will also be located in Bahia state, is expected to begin production at the end of 2013 and have an annual capacity of 30,000 vehicles by 2017. The Beijing-based company said it plans to set up 130 dealers in Brazil from 2013 to 2017.
The plant, which will initially assemble vehicles with parts shipped from other countries, will gradually increase the use of parts from local areas to 65 percent by 2017 - the figure needed not to pay the high taxes required by the Brazilian government.
The move follows a similar action by Lifan Industry (Group) Co, which is trying to boost its global market share by increasing sales in the Portuguese-speaking country in South America to avoid paying the high import taxes.
The Chongqing-based Lifan signed an agreement with Brazil's Effa Group in January to set up a joint venture to build an assembly plant for Lifan vehicles.
Both companies will invest $120 million in total for the new plant and expand their existing assembly plant in Uruguay, which started operations in April 2010 and has an annual capacity of 40,000 units.
The new plant in Brazil will start construction in 2014, and has an expected initial annual output of 10,000 units.
Analysts said that the Chinese automakers' decision to set up local production bases in Brazil is a result of the local government's high taxes on imported vehicles, a measure implemented by South America's fastest-growing economy to support its domestic car industry.
In September, Brazil's government raised taxes by 30 percentage points on imported cars and trucks, and those produced in Brazil and other Mercosur countries that fail to meet localization rates of 65 percent, in a bid to replace imports with domestically made vehicles.
The measure is expected to increase Brazil's industrial product tax on cars by between 7 and 25 percent, depending on engine size, to as much as 55 percent.
Customs data showed that in 2011, Brazil replaced Algeria as the largest export destination for made-in-China vehicles, with total exports at about 110,000 units.
Chinese-branded vehicles grabbed 1.81 percent of the local market share in the world's third-fastest growing economy in 2011, up from about 0.05 percent in 2010.
JAC led the group of Chinese automakers, with sales of 23,700 units, followed by Chery's 21,700 units and minivan producer Hafei Automobile's 16,700 units.
However, the tax increase is taking a toll.
"In the first six months, Chinese vehicle exports to Brazil dived by almost 90 percent year-on-year, taking the country out of the top 10 export destinations for Chinese automobiles," said Zhi Luxun, deputy director of the Department of Machinery, Electronics and High-Tech Industry with the Ministry of Commerce.
Analysts said that, after establishing their brands in Brazil through exports, it is also necessary for Chinese automakers to set up production bases in the country if they are serious about winning market share from existing and new players.
The Brazilian market is dominated by Fiat SpA and Volkswagen AG.
lifangfang@chinadaily.com.cn