Property investment hit 4.37t yuan in first eight months, a rise of 15.6 %
Li Xue, a 28-year-old company executive, has decided to stay in Beijing during the next Spring Festival because she believes it might be the best and last time for her to buy an apartment in the capital.
Li, who is originally from North China's Shanxi province, was annoyed with herself for not buying somewhere in April this year when prices were much lower.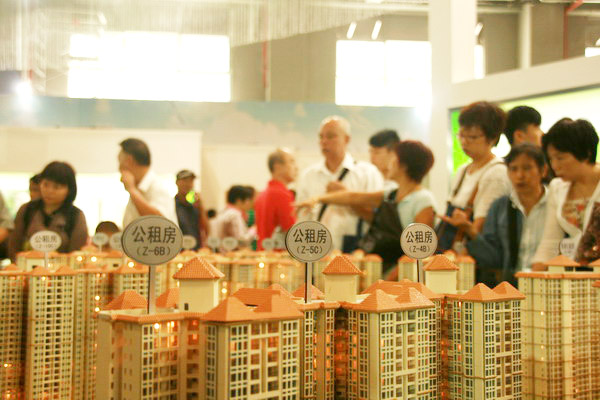 Will property prices start dramatically rising again as they did some years ago? Is it the right time to buy or should people wait for another couple of months? Will the central government abandon its tight policy over the country's property market now because of slowing economic growth? With those questions in mind, many potential Chinese home buyers are very concerned about any fluctuation in the country's property prices. [Photo/China Daily] 
Since then the price of the apartment she plans to buy has climbed more than 30 percent.
China's real estate market heated up over the past few months, mainly driven by first-time buyers. According to the China Index Academy, average new home prices in 100 major Chinese cities rose 0.24 percent from July to August, marking the third consecutive month of rising prices.
The country's Real Estate Development Index, a key barometer of the country's property market, saw a small rebound in August after sliding 14 months in a row, according to the National Bureau of Statistics. The index stood at 94.64 in August, up 0.07 percentage points compared with July.
"Although the index is still below 100, which means that the market is still bearish, the rebound indicates that the worst time for property developers is over," said Chang Qing, an analyst at Homelink, a Beijing-based real estate consultancy.
Property investment for the first eight months of this year was about 4.37 trillion yuan ($688 billion), up 15.6 percent compared with the same period last year, according to the NBS.
According to Zhang Dawei, head of the research department at Hong Kong-based Centaline, home prices and transactions will probably both pick up in September and October, based on the trend over the past two months.
"The decline in home supply, together with surging land prices, will help to push up prices," said Zhang. "Meanwhile, the government's monetary policy in the fourth quarter, such as cutting interest rates and the bank reserve ratio, will also influence people's decisions on home purchases."
Income from land sales in China's 10 major cities jumped 14.4 percent to 40.9 billion yuan in August from July, according to statistics from Homelink. Meanwhile, floor space sold in the past month also increased by 30 percent in those cities.
Seven major real estate developers bought land parcels worth 8.87 billion yuan in first- and second-tier cities from Sept 5 to 7, industry data showed.
Despite the signs of a warming market, industry insiders said a big home price hike is not likely, especially in second-tier cities.
"Selling more homes remains the priority for most property developers," said Tong Jianguo, general manager of Ningbo Longfor Real Estate Development Co.
"Moreover, they have a clear view that if prices rebound strongly there may be more tightening policies in the pipeline. In that case, they are not likely to increase prices substantially," Tong said.
For second- and third-tier cities, there is also no sufficient purchasing power to support a big home price hike.
"Most probably, there will be a gradual increase in the coming months," Tong added.
The project under Ningbo Longfor, for instance, saw a 10 percent price increase in the past three months.
Gu Yunchang, deputy head of the China Real Estate and Housing Research Association, said there is little chance for the price to rebound substantially as major customers in the market now have changed.
Compared with 2007 or 2010, self-use buyers now dominate the market because of the policy to restrict the amount of homes a family can purchase.
"They are more sensitive to price changes and their purchasing power is not as strong as investment-oriented buyers. Therefore a big rebound will definitely restrain their demand," said Gu.
The price rebound did change some buyers' plans.
Liu Gang, who failed to buy an apartment in May because of a three-month business trip overseas, has now postponed his home purchase plans.
"Since the price has rebounded, I am not in a hurry to catch up. The price has exceeded my affordability so I have had to give up," said Liu, who had planned to buy an apartment ahead of marrying.
huyuanyuan@chinadaily.com.cn