Purchase restrictions that Apple Inc has placed on its latest iPhone are likely to have a major impact on unauthorized resellers when the devices go on sale on Friday.
When orders for the iPhone 5 began to be accepted in Hong Kong on Thursday, only two Apple retail stores in the city were selling them to customers selected by "an online reservation system".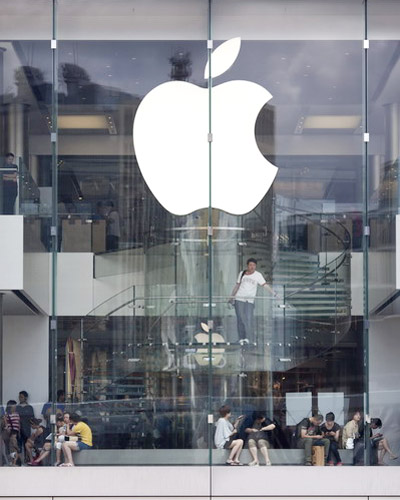 With the release of the iPhone 5, Apple appears to be more determined to crack down on unauthorized reselling. [Photo/China Daily] 
Those allowed to buy either an "unlocked" iPhone - one that's not tied to any specific carrier's network - or one with a subscription contract could decide to have the device delivered or to pick it up at one of the two stores on Friday. But before they could complete their purchases, they also had to produce a government-issued ID, resellers said.
That requirement is likely to prove irksome to those who work in the so-called gray market, in which goods are sold legally but through unofficial channels. Since Wednesday, many resellers have been paying surrogate buyers to line up outside the stores, where they are to purchase the devices that will eventually be sold again on the gray market.
An unlocked iPhone has long been a popular item on the gray market, especially in countries where the latest Apple devices aren't for sale immediately after their introduction. With the release of the iPhone 5, Apple appears to have become more determined to crack down on unauthorized reselling.
Hong Kong will be a testing ground for the company's methods.
A reseller who didn't provide his name said he has found 200 people who want work for him as buyers. The ones he selects for that work can receive as much as 500 yuan ($80) after they provide him an iPhone they bought with his money.
He said his "boss" hopes to find 1,000 buyers by Friday.
He predicted that a 16 gigabyte, unlocked iPhone 5 will cost more than 7,000 yuan on the gray market. The device's official retail price in Hong Kong is HK$5,588 ($721).
On the first day iPhone 4S could be ordered in Hong Kong, more than 1,500 people could be seen lining up outside an Apple store in the city. At about the same time, the device was going for HK$10,500 on the gray market.
In Canada, which also has a large gray market for unlocked iPhones, resellers were caught off guard by a new system that requires would-be purchasers of the devices to use a specially designated Apple ID and a credit card to order them before they go to the store to pick them up. A single customer can buy no more than two of the devices.
"We didn't expect it," another reseller said. "Neither did a lot of resellers and customers. Luckily, we succeeded in ordering some unlocked ones, but I'm afraid many people will have to wait until the next release."
Apple's latest devices usually are put up for sale on the Chinese market months after they come out in North America, forcing Chinese customers to pay a premium for them on the gray market.
Xiao Mei, who runs a Los Angeles company that takes electronics and luxury goods that were bought in the United States and sells them in the Chinese mainland, said he had received more than 1,000 orders for iPhone from resellers and about 30 from individual users within five days of the device's introduction.
Xiao said he plans to resell a 16-gigabyte unlocked iPhone 5 for 6,000 yuan, a price that takes into account taxes, the commission he charges and shipping costs. He said he can avoid paying customs duties by sending the devices to Hong Kong and then hiring people to bring them to the mainland.
"The gray market is vulnerable to changes in policies, such as increases in tax rates and changes in postal restrictions," he said. "The iPhone is still the most profitable consumer electronics device, although the days when people earned 1,000 yuan from reselling one have passed."
Apple remains the producer of the best-selling advanced smartphone in China, although its market share is shrinking.
The research firm International Data Corp forecasts that the country wisll overtake the US to become the world's No 1 market for smartphones by the end of 2012.
The two Chinese mobile companies that are authorized to carry the iPhone 5, China Unicom Ltd and China Telecom Corp Ltd, have said they'll begin offering the device within the next three months.
China Daily