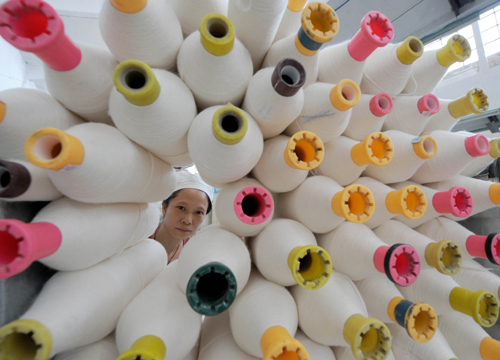 A textile worker at a mill in Nanyang, Henan province. China's textile industry is suffering losses because of decreasing overseas demand and rising costs. [Photo/Xinhua]
Declining overseas demand, rising costs take toll on exports, profits
Domestic textile and garment manufacturers are facing tough times due to declining overseas demand, sharpening domestic competition and rising labor costs.
Li Daoyou, a manager at Dongtai Henghua Weaving Co Ltd in Jiangsu province, said there had been a big fall in overseas demand since the second half of last year.
Sales at his factory, which produces high quality fabrics, decreased about 30 percent year-on-year in 2011.
Statistics from the General Administration of Customs showed the country exported garment and textile products worth $24.6 billion in August, down 3.35 percent from the previous year.
In the first eight months of 2012, China exported garments worth $99.48 billion and textile products worth $62.51 billion, both down 0.7 percent from a year earlier.
"Orders from the European Union are dropping and competition with domestic factories is intensifying," Li said.
"Overseas buyers always demand lower prices. But it is better to do it at a lower price than have nothing to do," he said.
Many smaller textile factories have been forced to close because of a lack of orders and higher labor costs, said Li.
According to the Ministry of Industry and Information Technology, the country's textile industry suffered decreasing exports and profits this year.
In the first five months, the profits of textile enterprises with annual revenue of above 20 million yuan declined by 2.4 percent year-on-year to 91.7 billion yuan. About 18.6 percent of those enterprises made losses, up 5.4 percent year-on-year.
"Wages kept rising in the past few years. For example, in our factory, the workers now earn twice what they earned five years ago," Li said.
Li's complaints were echoed by Zhang Wanting, owner of Shandong Aorong Garments Co Ltd.
The workforce at his factory decreased from 700 to 400 in recent years, dropping 10 to 20 percent annually.
"Things will become even worse in 10 years, when most of today's workers are in their 40s and have become too old to work at a textile factory," he said.
"Overseas demand might rise when the economic situation improves. However, the decrease in the number of workers cannot stop. I can't see any future for my factory in more than 10 years," said Zhang.
However, Hu Dongmei, deputy general manager of Dalian Dayang Group Co Ltd, did not share Zhang's negative outlook, saying that innovation and technological upgrading could make good companies stronger.
"It is an irrevocable trend that low-end orders are moved to countries with lower labor costs such as those in Southeast Asia," she said.
For instance, in the first eight months of 2012, Vietnam exported textile products worth $10.8 billion, up more than 6 percent compared with the same period last year, according to the Vietnam Textile & Apparel Association.
"China's advantage on high quality cannot be beaten by these newly rising manufacturers in the short term. We have accumulated plenty of experience in the past three decades," said Hu.
Dayang Group is China's biggest exporter of men's suits. It makes about 5 million suits a year, with 80 percent of them exported.
Hu admitted that her company's profit margin is very low.
"Thanks to the export tax rebate, we are making some profit. We hope the tax policy remains stable," she said.
According to Hu, Dayang has phased out low-end orders and put more emphasis on high value-added products since 2009.
Its own brand, Trands, produces made-to-measure suits for high-end customers both at home and abroad. US billionaire Warren Buffet is one of its most famous customers.
"I have confidence in China's garment industry. In addition to the overseas market, the domestic market is huge. What business owners need to do is to make adjustments according to market changes," she said.
Shen Xiongxiong, representative of US-based 26 International Inc in Shanghai, said he is well aware of the difficulties of China's garment makers.
"The lack of workers is a big headache," he said.
"The foreign purchasing agents were spoiled. They won't care whether the factories are making profit or not. They just ignore the rising labor costs and the appreciation of the renminbi."
zhangxiaomin@chinadaily.com.cn