China's passenger vehicle sales continued to recover in August, with the third-highest year-on-year growth in 20 months, making analysts raise their forecasts for full year sales in 2012.
Total sales of cars, sport-utility vehicles, multi-purpose vehicles and minivans increased 11.2 percent over last year to 1,158,921 units in August, according to figures from the China Passenger Car Association.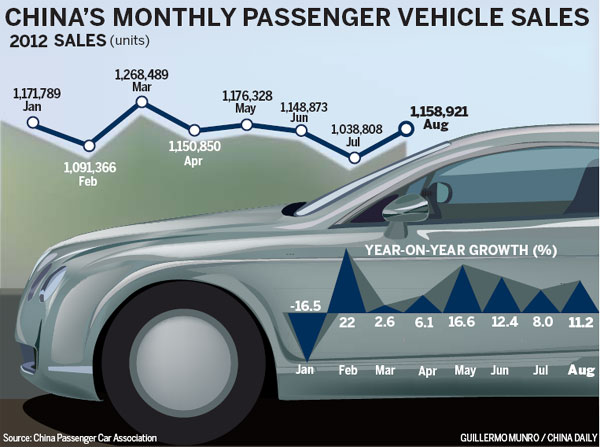 They mean that in the first eight months of the year, 9,205,675 passenger vehicles were sold in the world's largest automobile market, an increase of 6.4 percent year-on-year.
"The continued uptrend of the market in August was expected. But the increasing production of energy-saving vehicles, in response to both market demand and the government policy, acted as a catalyst for sales," said Rao Da, secretary-general of the association.
He said that he expected the sales momentum to continue in September, helped by the recently launched policy of free tolls on highways during the approaching week-long National Day holiday, which should help attract more consumers to showrooms before October.
"That will greatly ease the impact of expected fuel price hikes in September," said Rao.
"We also expect that China's GDP will recover from September, which makes us confident to raise our growth forecast for this year from negative to 7 percent year-on-year."
He said that although the commercial vehicle sector will remain at its current negative growth of 5 percent from a year earlier, he expected total automobile sales in 2012 to hit 19.3 million units from last year's 18.5 million units.
General Motors, the largest foreign automaker in China by sales, reported earlier this month that it had recorded a 7.3 per cent annual sales rise for August in China - a 10.8 percent jump on July - to 220,996 units.
US rival Ford Motor Co also said on Thursday it had recorded monthly sales in China in August of 48,631 units, representing a year-on-year growth of 39 percent.
However, the association's figures were published on the same day as automotive consulting firm JD Power and Associates released a new survey, which painted a less optimistic outlook for Chinese car dealers.
Polling the views of 1,605 dealers, covering 38 local and international vehicle brands in 49 cities, 67 percent of dealers reported that they achieved their sales target in the first half.
But almost half reported a drop in profits, hurt by high vehicle inventories and falling vehicles sales prices.
"Inventory pressure is the biggest difficulty dealers face, especially for luxury brands," said Mei Songlin, vice-president and managing director of JD Power in China.
According to Mei, dealer inventories were sitting at 2.2 times average monthly sales of new cars in the first half.
The situation had almost destroyed confidence levels for the second half, with 90 percent of dealers expecting a worse performance, he added.
"Only 30 percent of those dealers said that they were confident of reaching their sales targets for 2012," said Mei.
Despite setting keen promotional prices during January-June, Mei said all the dealers surveyed said they expected to cut prices again during the second half, at an average of 8 percent.
lifangfang@chinadaily.com.cn