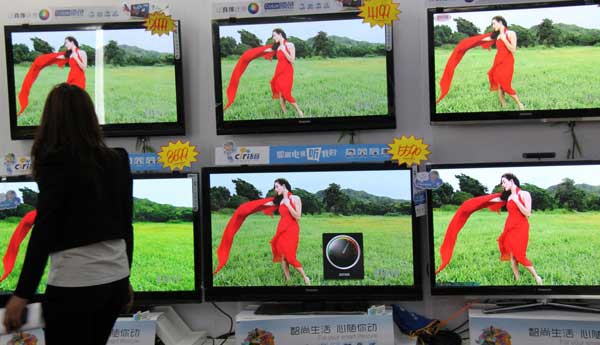 A customer look at TV sets in a shopping mall in Linyi, Shandong province, June 1, 2012. [Photo/Xinhua] 
The business prospect of China's electrical appliance industry will remain fragile in the second half of 2012 as the industry grapples with rising labor and operating costs, cut-throat competition and a decline in consumer spending.
China's largest electrical appliances and consumer electronics retailer GOME Electrical Appliances Holding Ltd reported loss attributable to shareholders of about 501 million yuan ($78.9 million) in the first half of 2012, compared to the 1.25 billion yuan interim profit last year.
GOME's sales revenue tumbled 22.4 percent to 23.12 billion yuan in the same period.
GOME's bigger rival Suning Appliance Co Ltd, seen by some as China's answer to Best Buy, reported a net profit decline of 29 percent to 1.75 billion yuan in the first half of 2012. Suning also warned of weak earnings as China's economy slows. Suning's revenue was modestly up 6.7 percent to 47.19 billion yuan in the review period.
Looking ahead, GOME said it expected its business performance to improve in the second half of 2012 by riding on a multi-channel sales growth strategy and through sales network enhancement plus an e-commerce platform reinforcement.
"GOME will reinforce its dominant market share in China's first-tier markets and expand into second-tier cities to improve the company's overall same-store sales growth," GOME Chairman Zhang Dazhong said in a company's statement.
Over the review period, GOME opened 62 new stores and closed 45 existing stores. It had 1,096 stores on the mainland at the end of June.
"Moreover, GOME can leverage its integrated strength in logistics, after-sales services and information technology to create a cost-efficient e-commerce sales platform that can enhance the company's profit margins," Zhang added.
However, equity analysts are not so optimistic. "The fierce market competition in the Chinese home appliance industry is ruining the growth prospect of retailers' profit margins," Core Pacific-Yamaichi Head of Research Castor Pang told China Daily in Hong Kong.
"Even (if) the Chinese government grants more subsidies to households, they may not rush to purchase new electrical appliances," Pang added. "When the country's economic growth prospects are bleak, households will put their purchase plans on hold because they still need to pay for the purchases even when there are subsidies."
"The business prospects of those electrical home appliance retailers will be dim due to fierce market competition and rising operating costs," said Sincere Securities Chief Executive Officer Louie Shum.
"It added to the uncertainty over the company as investors cannot see clearly how GOME can turn around as its store sales remain weak, while online investment also eats into the bottom line," said Patrick Yiu, a director at CASH Asset Management in Hong Kong.
However, CCB International Securities Ltd, in its recent market research report, gave the mainland consumer discretionary industry an "overweight" rating as home appliance sales will be supported by government subsidies.
China's retail sales grew 13.7 percent in June, their slowest rate of growth so far this year. Sales of home appliances in June rose 9.5 percent, the third-weakest performing sector in retail sales data.  
oswald@chinadailyhk.com