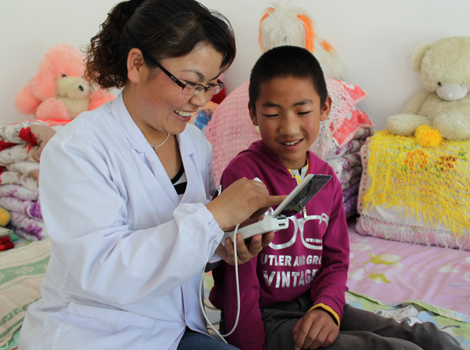 Ben Chengfang (left), a doctor at Shuangshu Township Health Center in Qinghai province, assists one of her patients in a village. [Photo/China Daily] 
Ben Chengfang spends seven to eight days every month traveling around 14 villages in Shuangshu township, Qinghai province, checking the health condition of women who are about to give birth, or have given birth, and their newborns.
The rest of the time she works at Shuangshu Township Health Center as a gynecologist, obstetrician and operator of a type-B ultrasonic machine, the most expensive piece of equipment in the medical institute.
The 34-year-old doctor says she is satisfied with the work, for which she is paid 3,000 yuan ($470) a month.
Ben is one of 16 medical staff at the health center, which covers a population of 19,400 and has 15 hospital beds.
Lei Yande, director of the township medical institute, says Ben works extra hard because she has a number of roles. Lei also visits patients, in addition to his administrative duties.
The consulting room he uses is around 10 square meters.
"All the other rooms are being used and we have no ward now. But, it will be better after the new hospital is built, which is expected to add more than 20 hospital beds," says Lei, who has worked at the center for nearly 10 years.
"In rural areas, doctors who are knowledgeable in all fields of medical care are badly needed. With the deepening of medical reform, more villagers can afford medical care and therefore there is a shortage of medical professionals," says Li Xiaodong, deputy director-general of Qinghai Health Bureau.
The Ministry of Health reports that by the end of 2011 there were about 944,000 medical institutes around the country, nearly 96 percent of which were grassroots institutes. Less than 40 percent of medical professionals work at grassroots institutes.
In Qinghai, the situation is worse, and just one or two medical staff have to cover 50 to 60 households scattered over a few hundred square kilometers, Li says.
Medical system reform beginning in 2009 aims to provide universal medical service to all the nation's people. Currently, 95 percent of Qinghai people are covered by medical insurance.
The provincial government has raised subsidies for basic medical insurance for both urban and rural people to 300 yuan ($47) per person a year, compared with the nation's average level of 240 yuan.
At the same time, rural patients are reimbursed 90 percent of their medical care expenses.
Before reform, villagers often self medicated and pregnant women gave birth at home, says Tan Xiaojun, vice-director of Donghe Township Health Center in rural Qinghai. Now they spend less money on treatment at hospitals and health centers and have their babies delivered free of charge.
To retain medical personnel the provincial government issued a policy at the beginning of 2012 to include all university graduates working at rural medical institutes on official personnel list, so their wages jumped from 800 yuan to nearer 3,000 yuan.
The province recruited 433 graduates for 403 village clinics and 30 township health centers in 2011. And nationwide recruitment started this year.
Another challenge is to improve the qualification of medical employees.
Meanwhile, many of the grassroots hospitals and clinics have new equipment following government and business investment.
Huzhu County Hospital, for example, has more than 60 employees and serves a population of 380,000, mostly rural residents. The hospital is equipped with standard medical devices, including X-ray, electrocardiogram, computed tomography and type-B ultrasound machines, as well as blood and urine examination equipment.
"But few doctors can master the equipment," says the hospital's president Xue Tianwei.
International medical equipment technology and solution provider GE Healthcare donated five new ultrasound products to Qinghai in April, one of which, Vscan, is at Huzhu County Hospital. It provides easy to read medical imaging in real-time for doctors and patients.
But so far, the equipment is used mainly as an alternative to common large-sized imaging devices, as doctors cannot fully utilize the device, says He Fei, vice-chairman of the China Association of Ultrasound and Engineering's gynecology and obstetrics branch.
Ben is one of two doctors in Shuangshu who are able to use the type-B ultrasonic machine and has also mastered the Vscan. She takes the device with her on her trips to villages.
She used the Vscan on one pregnant woman to determine she had placenta previa, in which the placenta is attached to the uterine wall close to or covering the cervix, and could have been fatal.
"Pregnant women are very happy, when I show them their babies' images in Vscan," says Ben, who has a 4-year-old boy.
Ben mastered the use of Vscan on two mid-career training courses, which each ran for six months.
The provincial government plans to train an additional 3,000 general practitioners by 2015, says Zhao Hui, planning and finance director of Qinghai Health Bureau.
He, from the medical association, says the province also intends to cooperate with international organizations and multinational companies to secure funding, increase efficiency and provide more training.
Both Lei and Tan say employees at their health centers are keen to undertake additional training, but because they are shorthanded they are not always able to send employees on courses.
liujie@chinadaily.com.cn