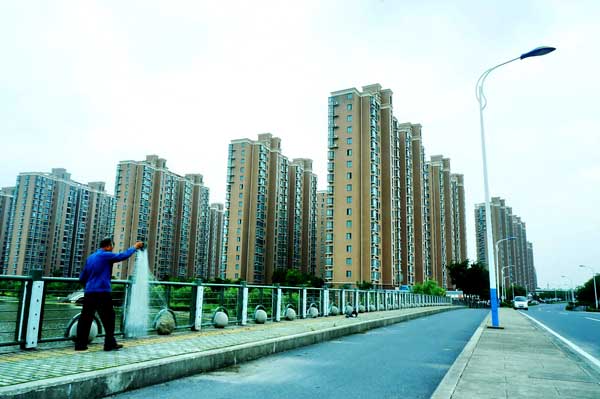 A man works near newly built houses in Shanghai, June 20, 2012. [Photo/Asianewsphoto]
BEIJING -- The heating up of China's real estate market in July could jeopardize the country's soft landing, according to a mid-year report from a leading think tank.
Official data released last Wednesday showed that 25 cities, out of a statistical pool of 70 major cities, saw new home prices rise in June from the previous month. The figure was drastically up from six cities that saw month-on-month price gains in May.
Though the performance of the overall property market in the first half of 2012 was generally within the forecasted target zone of the government control, the "warming" in June added to the complexity and difficulties to the second half, according to the housing report released Monday by the Chinese Academy of Social Sciences.
The report attributed the June retreat to the policy expectations and wide panic caused by the fine-tuning on the macro policy of property regulations, rather than the actual policy adjustments.
Gao Peiyong, head of the CASS's National Academy of Economic Strategy and leading author of the report, believed that the housing price could gradually drop towards "soft landing" and achieve health development, if proper policies were adopted in the coming months.
"The top priority is to change the market expectation," said the report, which called for enhanced regulatory measures to hold back the rebound and prevent financial risks.
China has tightened its curbs on the property sector since 2010 as home prices rocketed beyond the reach of average wage earners. The government has restricted home purchases in several cities while requiring higher down payments and introducing property taxes.
A separate blue paper from the CASS forecasted that there is "almost no possibility" of an increase in the country's property prices while the real estate market will continue to stabilize in 2012.