Apple Inc launched its new iPad tablet in the Chinese mainland market on Friday, this time without the overnight lines seen during the release of the iPhone 4S and the iPad 2.
The release comes shortly after the company paid $60 million to a Chinese company to settle a trademark dispute over the iPad name.
Last year, when the company launched its iPad 2 in China, hundreds of people stayed up all night queuing for the new device. Authorities sent police and police dogs to keep public order outside the Apple stores.
However, this year, only about 30 customers were waiting for the store in Sanlitun to open on Friday morning. Apple store employees outnumbered buyers. Most of the waiting customers were Apple fans, and scalpers - the professional profiteers - were hard to find this time.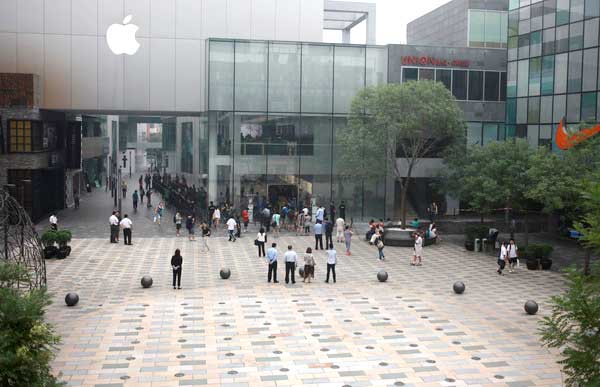 Apple Inc's launch of its new iPad tablet draws few customers at its store in Sanlitun, Beijing, on Friday morning. [Photo/China Daily] 
A customer surnamed Ye was the first in line to buy a 32-gigabyte iPad. He said that he already owns an iPhone 4, an iPad 2 and other Apple products.
"I reserved an iPad at Apple's online store on Thursday morning, and then received an email to pick up the tablet on Friday morning, a few hours later," Ye said.
He arrived at the store at around 7 am, and was surprised to find out that he was the first in line. Last year, the first customer who bought an iPad2 started queuing at 3 am.
Apple's new retail policies in China and the economic slowdown were the main reasons for the lackluster attendance, industry experts said.
In order to curb scalpers and the gray-market trade, the new product was only available through Apple's online store, selected authorized resellers and by reservation from Apple's retail stores in China.
"Tablets have been in the Chinese market for about two years, and customers now are more jaded about the new products," said Wang Jiping, a senior analyst at US-based IT research company IDC Asia-Pacific.
Wang also said that because the new iPad has been sold for about four months in many countries around the world, customers won't be as passionate about the product as they were before.
About 6.18 million tablets were sold in China last year, and the number is expected to increase to about 8 million this year. China has become a very important market for Apple. The number of Chinese people accessing the Internet via mobile devices - such as tablets and smartphones - has increased to a record high of 388 million at the end of June, a report from China Internet Network Information Center said on Thursday.
However, Wang said personal computers will not be replaced by tablets. IDC predicts that PC shipments in China will reach 80 million units this year, still 10 times more than tablets.
"Tablets are more like toys, but cell phones and PCs are necessary for work," Wang said.
The lackluster demand might also be related to gray-market products.
"Hong Kong version iPads have the same warranty in China but cost about 400 yuan ($63) less. I don't want to pay extra to get the same product," said Yang Qiong, a customer in Zhongguancun, Beijing's biggest electronic products area.
"The price of the new iPad in Zhongguancun is about 3,450 yuan compared with the official price of 3,688 yuan for a 16 gigabyte WiFi-only iPad," said Li Lianhai, a store employee in Zhongguancun. "Most customers come here for the Hong Kong version, not the official ones."
Meanwhile, Chinese electric appliances retailers such as Suning Appliance Co and Gome Electrical Appliances Holding Ltd also started to sell official iPads on Friday.
tuoyannan@chinadaily.com.cn