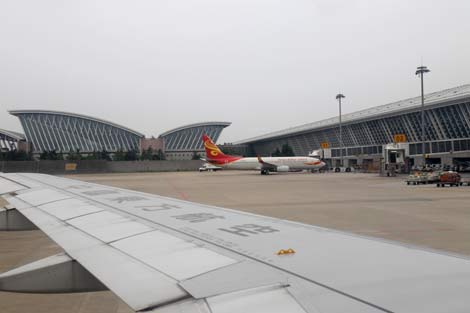 Shanghai Pudong International Airport handled around 3.1 million tons of cargo in 2011, ranking it third globally behind Hong Kong International Airport and Memphis International Airport, in the United States. [Photo / China Daily] 


Shanghai is on course to become the world's top air cargo hub by 2015, according to the head of the city's airport authority.
Speaking at the opening of a new $175 million North Asia hub by Germany's Deutsche Post DHL, Li Derun, president of Shanghai Airport Authority, said that investments by such global players at Shanghai Pudong International Airport are now driving air traffic into the city.
He said rival US industry giants United Parcel Service Inc and FedEx Corp are also planning to base their regional express hubs in the airport area, expanding their international transfer business.
Pudong International Airport handled around 3.1 million metric tons of cargo in 2011, ranking it third globally behind Hong Kong International Airport and Memphis International Airport in the United States.
"We only lag behind our rivals by 500,000 to 600,000 tons," Li said.
"International transfer business accounts for just 5 percent of our portfolio. To take the top spot, we need to lift this to 16 percent over the next three years."
The new DHL facility in Shanghai - part of an overall expansion plan by the company in China over the next five years - will be its biggest express hub in Asia, and marks its largest single investment in China, said its executive officer Frank Appel.
"The hub is a logistics milestone in the company's network. With Asia's leading economies fast integrating and free trade agreements reducing barriers to international commerce, logistics companies need capabilities to offer simplicity, speed and service," he added.
Covering an area equivalent to 13 soccer fields, the center can process up to 20,000 documents and 20,000 parcels per hour.
Last year, DHL's sales in China hit 4.2 billion euros ($5.1 billion), representing half of its Asia-Pacific revenue and 10 percent of its global income.
Appel said the company now expects China to account for a third of its overall revenue by 2017, and DHL will spend a further $132 million adding eight dedicated aircraft on high demand routes between Shanghai and North Asia, Europe and the US by 2014.
Li added that the new international express services being introduced will greatly enhance Pudong International Airport's cargo business, which saw shipments drop by 7 percent in the first half of this year compared to the end of 2011.
To better serve the international couriers now operating there, Li said the airport authorities plan to speed up customs clearance systems and optimize flight timetables for faster connections.
With the government's call to turn the city into an intercontinental cargo center, UPS introduced an international hub three years ago at Pudong International Airport, making it the key gateway linking China to its global network.
According to Li, FedEx is planning an inter-continental express hub at the airport, even bigger than that opened by DHL.
While FedEx declined to comment on details, its express division announced on Thursday it was launching Boeing 777 freighter routes from Shanghai and Guangzhou.
The two US companies are both applying for domestic licenses to operate inter-city businesses on the mainland.
But the requests are still pending, partly thwarted by concerns that their access to the local market is considered a threat to national security.
DHL's Appel, however, said it wasn't planning to launch domestic services at the moment after pulling out in 2011.
"We are now concentrating on the international delivery market. The competition in the domestic market is too intense," he said.
hewei@chinadaily.com.cn