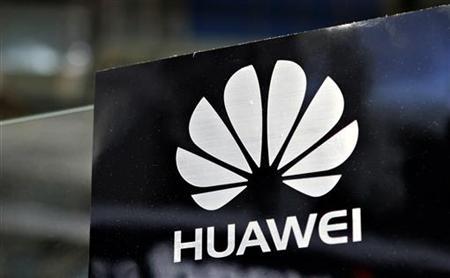 A Huawei logo is seen above the company's exhibition pavilion during the CommunicAsia information and communication technology trade show in Singapore, June 19, 2012. [Photo/Agencies]
China's Huawei Technologies is in talks with Gulf telcos Etisalat and Saudi Telecom to manage their fixed-line networks, an executive said, potentially cementing its leadership of a $1 billion regional industry.
Huawei, the world's No 2 telecom gear maker, is in similar negotiations with several other Middle East operators, the executive said in e-mailed comments, but declined to name them, citing confidentiality agreements.
"Huawei has strong partnerships with most regional operators and is constantly looking into ways of expanding these," Xia Chaojie, vice-president for delivery and service, Huawei Middle East, told Reuters.
"We see an opportunity to do this through moving towards new technologies and also looking at fixed-line managed services. Our teams have initiated talks with all our fixed network partners in the Middle East, including operators like Saudi Telecom and Etisalat."
Etisalat is a former monopoly in the United Arab Emirates, while managed services refers to operators outsourcing maintenance of networks to a third party.
The practice is increasingly common in the Middle East, allowing operators to better focus on marketing and customer services as a means of differentiating themselves from competitors.
Outsourcing network maintenance also typically cuts telcos' operating costs by 13 to 20 percent, Xia said.
He estimated the Middle East's managed services sector was worth $1 billion last year, claiming Huawei's market share was 55 percent. And he forecast sector revenue would grow around 18 percent over the next two to three years.
"In the Gulf we are providing or have provided managed services partnerships with almost all of the major operators," he said.
These include long-term deals with Oman's Nawras, a unit of Qatar Telecom, Saudi Arabia's Mobily - part-owned by Etisalat - and UAE's du.
Huawei and domestic rival ZTE Corp have come to prominence in the past few years, clinching contracts with major carriers and often edging out European rivals Ericsson, Alcatel Lucent SA and Nokia Siemens Networks.
Huawei is also helping to build and operate high-speed Long-term Evolution mobile networks for Saudi Arabia's three operators, plus Etisalat, Nawras and Oman Telecommunications Co.
LTE is specifically designed to carry data rather than voice and potentially offers download speeds more than double that of 3G, which it will eventually supersede, although a lack of LTE-enabled handsets means consumer adoption has been slow.