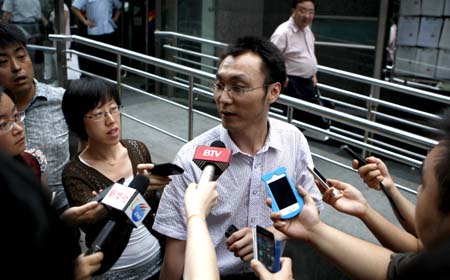 Wang Shuning, a lawyer representing writer Han Han and the Writers' Union, talks to media following a court appearance at Haidian District People's Court in Beijing on Tuesday. Zhang Yongyi (white shirt in background), a lawyer for Baidu, walks behind him. [Photo/China Daily] 
Han Han, one of China's most-read bloggers, has launched what could be a lengthy legal battle to close Baidu's online library, which he claims has infringed on his copyright.
The lawsuit filed by the author against the Internet company had its first hearing at Haidian District People's Court in Beijing on Tuesday.
The court sat for more than four hours, but judges did not deliver a verdict, and neither the plaintiff nor defendant accepted the judges' mediation after the hearing ended.
In March 2011 more than 40 writers, including Han and novelist Jia Pingwa, signed a letter claiming Baidu supplied their works for free download on its online library, Wenku, without permission.
Baidu Wenku, launched in 2009, is an online platform allowing Web users to read, share, upload and download files, books and documents for free.
In July 2011, Han and several others established the Writers' Union, aiming to protect writers' online copyright. The blogger's case is the first the union has taken to court.
In the indictment read on Tuesday, Han accused the online database of having a large number of pirated works, adding that it failed to address the issue even after being informed of the violation.
The case involves three of Han's books. He is demanding Baidu pay 760,000 yuan ($120,000) in damages.
Han also wants Baidu to close its online library and publish an apology on its website's homepage for seven days, according to the indictment.
At the court, Wang Guohua, the attorney representing Han and the Writers' Union, said his client previously wrote an e-mail asking Baidu to remove his works from the site. However, they were still available for download after that e-mail.
Zhang Yongyi, Baidu's attorney from Beijing Dadi Law Firm, refuted Wang's claims and said the company eliminated all documents related to the writer and his three works after they received the first e-mail.
"We took notice of the links (to Han's books) provided by the plaintiff and deleted the content, as per our online anti-piracy policy," Zhang said. He added they could delete the books' links provided by the plaintiff but not all pirated books because the plaintiff did not give them the content of the authorized books.
Zhang, with other three Baidu lawyers, typed the name "Han Han" and the names of three books into their online library at the court, but the computer showed a blank website with a notice, saying what the users wanted could not be found on this database.
"Baidu has taken many measures to avoid damaging writers' copyright," Zhang said. "Besides the anti-piracy technical system, we've also put some obvious warnings on our websites to tell users not to upload unauthorized documents."
As an information database or online service, Baidu operators have no right to check a mass of uploaded works by Web users in line with China's laws or regulations, the lawyer said after the trial, adding the company is unable to know what kind of documents have infringed others' copyright.
"The writer can tell the company or complain about the online infringement by using our e-mail addresses at the bottom of our Wenku websites if he found some uploaded works that might damage his rights," Zhang said.
However, Wang Shuning, another of Han's lawyers, said Baidu should know some documents on its online library might have violated Han's works and should not shift its blame onto the writer.
"We'll insist that Baidu infringed Han's work indirectly," he said. Wang said closing the online library may be a better way to avoid similar violations in the future.
Yu Guofu, a lawyer specializing in online infringement cases at Shengfeng Law Firm in Beijing, said the focus of the case should be the writer's copyright, not how to regulate the operation of the online library.
"Companies such as Baidu just provide a service or platform for residents, which means it's hard for operators to check each uploaded work's authorization," he said, adding the plaintiff cannot say Baidu infringed his copyright.
Rui Songyan, a senior judge specializing in intellectual property-rights cases at Beijing No 1 Intermediate People's Court, said that the core problem of similar cases for plaintiffs is how to prove that commercial websites publish works with bad intentions.
Under current laws, in China as well as other countries, there is no law to require online service companies to check works before they are uploaded, Rui said.
"We can't exaggerate an individual case, saying writers suffer major damage or companies are the victims," she said. "After all, it still needs time and cases to find a right balance between writers and online service companies."
caoyin@chinadaily.com.cn