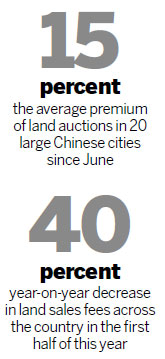 High premiums from land auctions reappeared in June as developers embarked on a new round of buying, signaling that land sales are becoming more common even amid regulations meant to cool the property market.
Land auction premiums - the percentage difference between a piece of land's initial price and its final sale price - have risen in 20 large Chinese cities since the beginning of the month, reaching an average of 15 percent, according to a survey conducted by Homelink, a real estate service provider.
A high premium rate is often a sign that a bidder had to overtake stiff competition to acquire a property.
Since the beginning of the month, the average premium for residential properties was 13 percent, while it was 19 percent for commercial land, the survey said.
Beijing, Guangzhou and Chengdu, meanwhile, reported seeing cases in which the premiums exceeded 50 percent.
From August to the end of May, the rate in the 20 cities was below 5 percent. Homelink's survey attributed the higher premiums seen in June to an increase in the supply of high-quality lots, as well as lower initial prices offered by the government in land auctions.
Xue Jianxiong, research director of China Real Estate Information Corp, said now is the "right time" for developers to expand their businesses.
"Land purchases have been nearly halted since the latest round of regulatory policies were introduced in early 2010," he said. "But vigorous sales figures in May have helped restore developers' confidence."
"Some large industry players, such as China Vanke, Poly Real Estate Group, and Evergrande Real Group, have begun to restock after recouping their money."
According to data Centaline China Property Research collected by monitoring 30 large cities, sales of newly built residential property in those places increased by 28 percent in May year-on-year, and by 20 percent when compared with the previous month.
That increase in trade, as well as the fine-tuning of local governments' policies, is improving the investment prospects of developers, Xue said.
Some analysts, though, said the land market is only warming up because large developers have been buying up land. It is not a sign of a larger trend, they said.
Homelink's survey showed that land sales fees dropped by 40 percent throughout the country in the first six months of this year compared with the same period last year, and by 57 percent in the largest cities.
According to the National Bureau of Statistics, real estate up for sale by May was 430 million square meters more than the amount by April, suggesting that the speed of sales has not yet outpaced that of new inventories.
"The land transactions that resulted in deals have mainly involved commercial property, while there has been little change in sales of residential lots," said Zhang Dawei, an analyst with Centaline Beijing.
The Beijing Land Reserve Administrator's website predicts that a lot in the city's Haidian district, with an initial price of 1.9 billion yuan ($298.87 million) , will be the next piece of land to be sold at an exceptionally high premium.
Still, Zhang forecast that 80 billion yuan in fees will be made from land sales in Beijing this year, which would be a record low. In 2011, 105.5 billion yuan was made from such sales. "But as developers' financial strains are gradually eased, and the demand for high-quality lots increases, the supply of available land will increase in July," he said.
weitian@chinadaily.com.cn