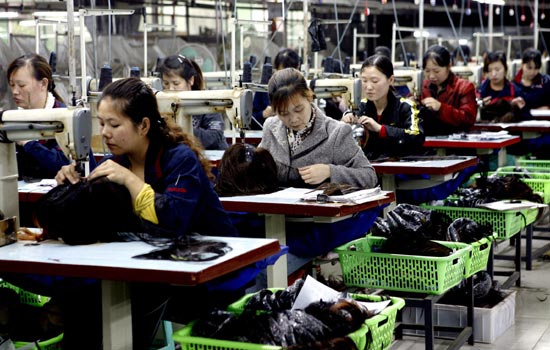 Workers make wigs for export at a factory in Huaying, Sichuan province. Export-processing enterprises in the eastern region are moving to the country's central and western regions to reduce their labor and land costs. [Photo/China Daily] 
Even though coastal cities in East China have long been the center of the country's processing trade, more and more such operations are being driven by increasing costs and sluggish overseas demand to move to the country's central and western regions.
In China, "processing trade" is a term generally used to refer to the practice of importing raw materials or components needed to manufacture a product and then re-exporting the finished product after Chinese businesses have processed or assembled them. It plays an important role in the country's foreign trade and gets a listing to itself in trade statistics, separate from that for "general trade".
China started promoting its processing trade and trying to take full advantage of its rich labor resources after it adopted its reform and opening-up policy in 1978. China's supportive system for the processing trade entitles processing companies to defer payments of tariffs and import-related taxes that are charged on imports of raw materials and components.
But after decades of fast development, the processing trade in coastal areas is now having to deal with increasing costs and scarce resources.
"Before 2005, China's processing trade was mainly in coastal cities," said Cheng Wenhua, director of the Ministry of Commerce's department for industry of mechanical and electronic and science and technology.
"But recent years saw a shift to inland cities."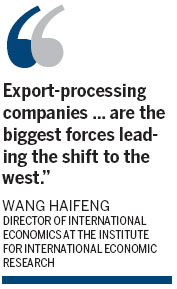 Costs, including those of labor and land, are now the main causes of Chinese processing-trade companies' decisions to move inland.
The government has thus called for the processing trade to shift to the country's central and western regions, which are rich with resources and are home to workers willing to work for relatively lower pay.
In 2011, the value of the processing trade of those places increased by 78.4 percent to reach $82.3 billion, showing a growth rate much greater than the national average rate of growth for trade. From 2006 to that year, the value of those regions' processing trade went from making up 2.5 percent of the total value of the country's processing trade to 6.3 percent.
"Although the ratio is still small, the central and the western regions have embarked on quickly developing the processing trade," Cheng said.
In coastal area, meanwhile, such trade has been hindered by increases in the costs of land, labor, power and other resources. Meanwhile, neighboring countries, including Vietnam, India and the Philippines, have managed to attract overseas investments from China by offering lower costs and preferential policies.
"The shift of some industries or industry chains to the central and western areas is the inevitable outcome of the market economy and also the result of globalization," she said. "And the central and western regions are now well-prepared to embrace the shift in the processing trade after making progress in transportation, logistics and the supply of water and power."
In October, Premier Wen Jiabao said at the Canton Fair that "China's processing trade should gradually extend to the upper industrial chains and transfer to the central and western regions step by step", a statement that was included in the Government Work Report on March 5.
"Export-processing companies that are being transformed or upgraded, as well as companies that are tapping both the overseas and domestic markets, are the biggest forces leading the shift to the west," said Wang Haifeng, director of international economics at the Institute for International Economic Research, which is affiliated with the National Development and Reform Commission.
"Companies moving west can enjoy market, cost and policy advantages," he said. "As the government expands domestic consumption, China's consumer market at home, especially in the central and western regions, is growing very fast. Local governments are rolling out preferential policies to attract export processing with offers of cheaper land and utilities, in addition to lower labor costs."
Some companies, usually ones that rely heavily on labor, have gone a step further and moved their manufacturing bases overseas to be closer to their international markets, Wang said.
"Export-processing companies that are going abroad are just a small proportion of the number that are moving inland," he said. "But for advanced industries, including the textile, footwear and toy industries, moving a manufacturing base to another country can effectively reduce the heavy trade frictions they have been subjected to at home."