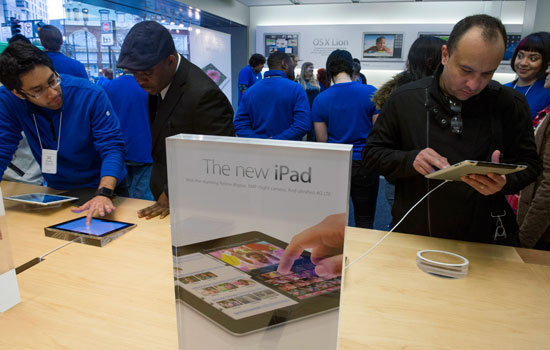 The new Apple Inc iPad at one of the company's stores in San Francisco. Apple began selling the device in March in many countries and regions. [Photo/Bloomberg] 
Approval paves way for retail sales as trademark dispute continues
Apple Inc's new iPad has gained a network access license for the Chinese mainland, a step that will pave the way for the device to be sold here.
According to China's Telecommunication Equipment Certification Center website, the license was issued for the Apple device on Monday. Without it, the company could not legally sell the new iPad in the Chinese mainland.
The device, which has the model number "A1430", is compatible with both the fourth-generation standard for wireless networks, or 4G, and the 3G network operated by Apple's official local telecom partner, China Unicom Ltd.
Apple began selling the new device in March in many countries and regions including the United States and Japan. Still, the latest iPad has never legally appeared in stores in the Chinese mainland, which is the biggest market for Apple products outside of the US.
Apple's previous versions of the iPad hold a roughly 80 percent share of the Chinese market for tablet PCs, according to figures from the research company Analysys International. The Chinese PC company Lenovo is also a strong competitor in that market and is considered to be a strong rival of the US company, the research company said.
China is expected to ship 4.5 million tablet PCs this year, according to the US-based research company International Data Corp.
According to China's biggest portal website, Sina.com, Apple postponed introducing the new iPad to the mainland because of its recent involvement in a trademark lawsuit with a Chinese company.
The Guangdong Provincial High People's Court is still handling the trademark dispute, which was initiated by Proview Technology Shenzhen Co Ltd.
Some local governments have meanwhile been confiscating Apple iPads, giving rise to concerns that the company's newest product won't be sold in the Chinese mainland.
To settle the trademark dispute, the US company has offered compensation to Proview Technology, Xie Xianghui, a lawyer for Proview, said recently. He said the Guangdong court is trying to mediate the dispute and that Apple and Proview are negotiating a settlement.
Apple's partner China Unicom has not released a schedule showing when the new iPad is to start being sold in the mainland. The previous version of the iPad, when it was released, came onto the market a couple weeks after it had received a network access license.
Apple's first mainland store opened in Beijing's Sanlitun area in 2008, and China is the source of about 10 percent of the company's sales revenue, according to Tim Cook, company CEO.
tuoyannan@chinadaily.com.cn