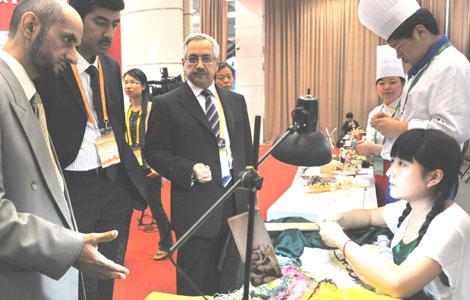 Visitors talk to a student majoring in embroidery at the Third International Congress on Technical and Vocational Education and Training in Shanghai on Monday. [Photo /  China Daily]


Students from rural areas have seen increases in financial assistance
Technical and vocational education will be a top priority for government spending on education, a senior official has revealed.
State Councilor Liu Yandong said the education budget will increase this year by 580 billion yuan ($92 billion) from 2011, with more money going to rural, remote and poverty-stricken areas, as well as areas mainly with ethnic groups.
Liu made the announcement during the Third International Congress on Technical and Vocational Education and Training, which started on Sunday and ended on Wednesday in Shanghai.
The event has attracted more than 800 representatives from 117 member states of UNESCO, and 72 international organizations.
"China, a developing country with one-fifth of the world's population, has made tremendous progress over the past 30 or so years since the reform and opening-up," Liu said. "The overall national strength and standards of living have been improved dramatically, and the country has taken on a new look."
"Yet China's development remains unbalanced, uncoordinated and unsustainable, and faces numerous challenges. In China's modernization efforts, technical and vocational education and training has an important role to play, and will therefore embrace greater opportunities for development."
China's technical and vocational schools recruit 11 million students annually, with close to 32 million enrolled now, accounting for half of China's secondary and higher education student population, Liu said.
Education Minister Yuan Guiren said vocational education is a way to "orderly transfer rural laborers to urban areas".
"China is facing a crucial period to accelerate the transformation of the pattern of economic development, and to promote industrial restructuring and upgrading, which requires vocational education to foster more high-quality skilled talent," Yuan said.
"The overall building of a harmonious society calls for a decent job and life for all members of the society, and for an expansion of vocational education services."
With an urbanization rate of 50 percent, 8 million rural workers are expected to transfer to Chinese cities every year through 2015. As a result, there is an "urgent need" to develop rural-oriented training in China, so rural residents can have the job and life skills they need before moving to a city, according to the Report on TVET Development in China, released by the Ministry of Education and UNESCO's Chinese national commission.
Since the 2007 fall semester, the Chinese government has offered financial aid to first- and second-year students from rural regions to study at secondary vocational schools.
In 2009, the government exempted vocational school tuition for full-time poor rural students, along with students who have agriculture-related majors.
By 2011, the number of technical and vocational students receiving government financial aid reached 3.95 million.
Borhene Chakroun, a section chief at UNESCO responsible for technical and vocational education, told China Daily that the Chinese government's policy is comprehensive.
"The work that has been done by the Chinese government has also emphasized rural development," Chakroun said.
"Now China is facing a medium-income trap, which means when you are at one level of development, and you want to achieve a higher level of development, you need new types of skills and new types of human resources."
Meanwhile, the Chinese education authority is launching a new reform plan to "unlock the dead end" of vocational training in the country.
"The dead end is when you go and you cannot move further ... that is how technical and vocational education and training was before," Chakroun said. "But now it is opening doors."
The government is drawing up a plan to build a modern vocational education system, including a mechanism to connect vocational and general education, Yuan, the education minister, said on Monday.
"We want to make the system a flexible one that can include different types of education by the year 2020," Yuan said.
China has a varied school system. Vocational schools exist in parallel with middle schools, high schools and colleges, but students cannot transfer from vocational schools to general schools.
"I think it would be great news for me if I can continue to study in general colleges if one day I find out that I do not like the skill I am learning, or that I just want a higher diploma," said Chen Xiaoping, a second-year student at the vocational school under the medicine school of Shanghai Jiao Tong University.
"Now China, like other countries, is facing the same problem: Technology and economic development are very dynamic and moving very fast. That means the system has to be adjustable enough to develop the relevant skills," Chakroun said.
According to Chakroun, some European countries have developed qualification frameworks to help connect different types of diplomas or degrees.
"It helps mobility," Chakroun said.
"I can start with (technical and vocational training), go to work, and then continue to higher education," Chakroun said.
"That requires a lot of flexibility of this system, and a lot of career guidance," he said.
He also said some developing countries such as India and Brazil had stepped up their efforts on this front.
Gao Hong, deputy director of Liaoning Provincial Educational Research Institute, said isolation is the biggest drag on the development of vocational education.
"In the past, China's education reform was carried out within its self-contained systems, which means that primary education, higher education and vocational education are totally separated," Gao said.
"Students are not trained with the ability to make a career choice at the age of 15. But the fact is they have to choose a long-term career when they graduate from middle schools if they want to enter a vocational school, for once they leave the general education system they have no way back," Gao said. "As a result, connecting the two separate systems will help vocational education attract more students."
China has formed the world's largest technical and vocational education and training system.
By 2011, the country had 13,177 vocational secondary schools, as well as 1,280 tertiary vocational schools.
According to latest data from the Ministry of Education, from 1978 to 2011 vocational education schools trained 200 million high-quality students.
chengyingqi@chinadaily.com.cn