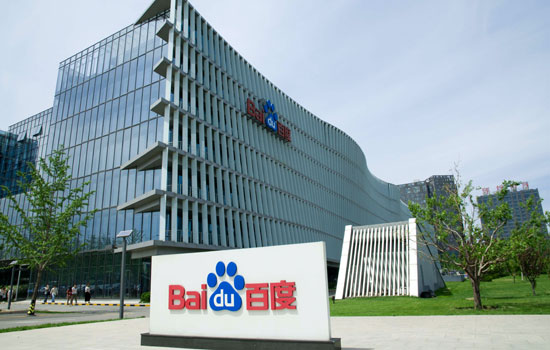 The headquarters of the Chinese search engine Baidu Inc in Beijing. The company's latest low-end smartphone is priced at 899 yuan ($142), uses Baidu's mobile operating system and provides 100 gigabytes in cloud storage. [Photo/China Daily]
The Chinese search engine Baidu Inc on Tuesday introduced an entry-level smartphone model running Baidu Cloud, the latest mobile phone operating system developed by the company.
The Changhong H5018, a low-end smartphone priced at 899 yuan ($142), is the second smartphone model to run on Baidu's mobile operating system. Consumer electronics manufacturer Sichuan Changhong Electric Co partnered with Baidu to produce the handset.
The new smartphone integrates Baidu's cloud computing technology and cloud-based services and applications. Through the device, users can enjoy 100-gigabyte cloud storage and access Baidu services such as a search engine, maps, music and an application store.
Baidu launched its first smartphone in cooperation with Dell Inc last September, but the device received a muted market response due to its high price and limited sales channels.
"The Baidu Cloud smart terminal platform can introduce a high-quality mobile surfing experience to users, and more importantly, it will help cut mobile phone manufacturers' costs," Baidu Vice-President Wang Jin told a media briefing in Beijing on Tuesday.
In addition to Dell and Changhong, Wang revealed that a number of other mobile phone manufacturers had been discussing the possibility of adopting Baidu's operating system.
Baidu's participation in China's smartphone market is seen by analysts as a strategic move to embrace mobile Internet, analysts said.
The company had a 78.5 percent share of China's Internet search engine market in the first quarter but has a far less influential position in the nation's mobile search engine market.
Baidu had a 34.9 percent share of China's wireless search engine market last year, while Shenzhen-based Easou.com had 21 percent and Soso.com, a mobile search subsidiary under Tencent Holdings Ltd, brought up the rear with 19.7 percent, according to research firm Analysys International.
However, analysts were not optimistic about the market performance of Baidu's smartphone.
Wang Ying from Analysys International said competition in China's low-end smartphone market is heating up, with more players from home and abroad joining the fray.
"To be frank, though Changhong is famous for its home appliance products, it is less competitive in the mobile phone field," Wang said.
Domestic rivals, such as Huawei Technologies Co Ltd and ZTE Corp, have the upper hand in the entry-level smartphone market through their good relationships with telecom carriers.
Meanwhile, international players, such as Samsung Electronics Co Ltd and HTC Corp, can take advantage of their strong branding.
Samsung said last week it expected China to ship 60 million entry-level smartphones this year, and the company aims to capture a more than one-third market share.
Other Chinese Internet companies, such as Alibaba Group, Shanda Interactive Entertainment Ltd and Qihoo 360 Technology Co, have all expressed an interest in chasing the low-end mobile phone market.
Alibaba, which launched its first Aliyun smartphone in last July priced at 2,680 yuan, released the second generation of the device priced at 1,499 yuan last month.
shenjingting@chinadaily.com.cn