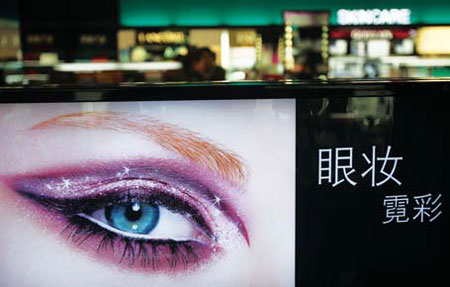 A cosmetics shop in Nantong, Jiangsu province. The traditional cosmetics market is ushering in new cosmeceutical products as investors, including pharmaceutical companies, eye the profitable niche market. Xu Congjun / for China Daily
Although Yu Jing, 28, is a sales person for Xiuzheng Pharmaceutical Group Co, the places she mostly visits are not hospitals or pharmacies but department stores, shopping centers and supermarkets.
"I really like the job, which provides beauty products for women," said Yu, who looks young and energetic with smooth, fresh-looking skin. "What I am selling is cosmeceuticals, the most popular type of skin improvement products for women pursuing a 'green' lifestyle and fashionable ladies."
Cosmeceuticals - the combination of cosmetics and pharmaceuticals - are cosmetic products with biologically active ingredients purporting to have medical or drug-like benefits.
The boom in cosmeceuticals coincides with people's ever-increasing interest in natural and safe products, according to Yan Shixiang, deputy-director of the Beauty and Cosmetics Committee under the All-China Federation of Industry and Commerce.
According to the National Bureau of Statistics, retail sales of consumer goods in China increased by 21.6 percent year-on-year in 2010, while the figure for the cosmetics sector was 22.1 percent. Yan's committee predicted that sales of cosmetics in China will reach 120 billion yuan ($19 billion) in 2012. It also said that the annual growth of cosmeceuticals expenditure in the nation will be higher than that of the cosmetics industry in general and will stay in double digits over the coming decade.
Xiuzheng Pharmaceutical Group is one of the top 10 drugmakers in China with sales hitting 60 billion yuan last year. It started producing cosmeceutical products in 2007, the raw materials of which are mainly derived from plants.
According to Sun Zhenwen, general manager of the Jilin-based company, the annual sales growth of Xiuzheng's cosmeceuticals was more than 300 percent. "We will continue to invest in this business (cosmeceuticals). A research and development project, supported by funds of more than 1 million yuan, was launched last year," said Sun.
Xiuzheng's case is not unique: Many pharmaceutical companies in China are expanding their businesses into the cosmeceuticals sector.
Yunnan Baiyao Group Co Ltd acquired three local companies for 63 million yuan in 2010. One of them - Jindian Pharmaceutical Co Ltd - has been engaged in skin improvement drugs and cosmetics development and manufacturing since 1989. Yunnan Baiyao helped Jindian to improve its technology and equipment and made it the group's cosmeceuticals branch.
In 2004, Beijing Tongrentang Group Co Ltd set up a subsidiary - Beijing Tongrentang WM Dianorm Biotech Co Ltd - to specifically develop and promote cosmeceutical products. The sales revenue of Tongrentang, which was set as long ago as 1669, amounted to 2.94 billion yuan in 2010, of which 20 million yuan came from the cosmeceuticals unit.
Mei Qun, general manager of the Beijing-based traditional Chinese medicine producer, said the cosmeceuticals business is the key focus of the company in the 2011-2015 period. Tongrentang is to develop 300 new products during this period, one-third of which will be cosmeceuticals.
However, Chinese cosmeceuticals cannot compete with some foreign brands, such as Vichy and Avene, in the domestic market. Li Shuhua, an analyst with Orient Securities Co Ltd, attributed this inability to the lack of a sound distribution network and poor knowledge of techniques to promote cosmetics.
Tongrentang has been trying to sell its cosmeceuticals in its own chain of pharmacies but few customers have noticed them. It also tried to sell its products to professional beauty salons, but failed. Now it's entering department stores and supermarkets to attract people's attention.
Li suggested the companies should take specific cosmetic retailing chains, such as France-based Sefhora, Watsons and Mannings, to sell their products. "Young Chinese citizens, who are major consumers of cosmetics, prefer to purchase cosmetics and healthcare products in these professional chains," she said.
Beijing resident Feng Ruobing has seen Tongrentang cosmeceuticals in a big department store. "It was a small counter that was selling Tongrentang skin improvement and hair maintenance products. I believe the brand is reliable and want to buy it," said Feng, 35, an administration officer in a multinational company. "However, the assistant could not provide good answers to my questions on the functions and ingredients of these products; so I gave up."
Xiuzheng's Yu said her company has trained a group of beauty assistants. "When women choose cosmetics, they want first to have a try and get clear and thorough knowledge about them. That's where our beauty assistants can help," said Yu.
"But cosmeceuticals are still a kind of cosmetic. They are not pharmaceutical products so people should think clearly what they really want and not have very high expectations of the efficiency of these products," she said.
liujie@chinadaily.com.cn
(China Daily 03/19/2012 page13)