Home sales and property investment in China both slowed in the first two months of the year, as the correction in the real estate market deepened because of the government's continuing curbs on the property market.
Home sales were down 14 percent year-on-year, while the value fell 20.9 percent to 414.5 billion yuan ($65.8 billion), according to the National Bureau of Statistics on Friday.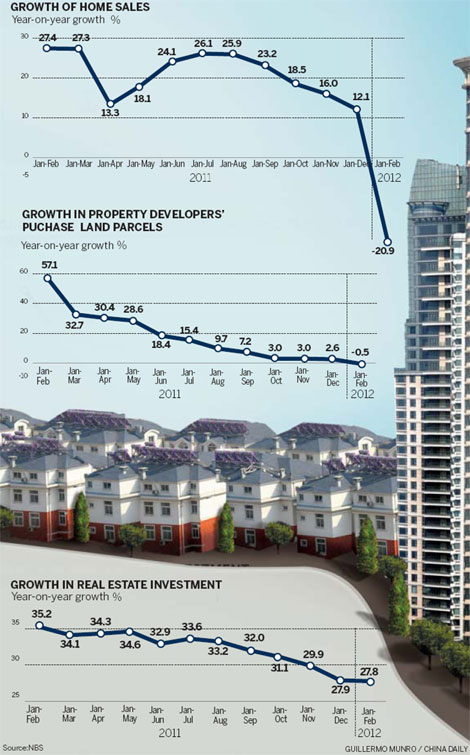 Property investment rose 27.8 percent in the first two months to 543.1 billion yuan, but the rate of growth fell 0.1 percentage point from the same period in 2011. The growth rate of investment in the residential sector was down 7 percentage points, according to the NBS.
"Despite the slowdown in property sales and investment, China should continue its property curbs at this time," said Pan Jiancheng, deputy head of the China Economic Monitoring and Analysis Center, a research center affiliated with the NBS.
Most economists estimated that investment would fall by less than 3 percent this year.
"Such a dip in investment, which is within our expectations, could be offset by growth in domestic consumption and is in line with our target for restructuring the economy," said Pan.
Meanwhile, the index for property development stood at 97.89, down by 1 percentage point from December 2011, according to the NBS.
Home prices in China fell for the sixth consecutive month in February, according to SouFun Holdings Ltd, the country's largest real estate website. Property prices nationwide fell 0.3 percent, the biggest drop since September 2011.
China Vanke Co, the country's largest publicly traded developer, said contracted sales in the first two months fell 27 percent from a year earlier to 19.05 billion yuan.
"Many developers in China may be at an increased risk of refinancing because of weaker property sales, high funding costs and tightened liquidity," said Bei Fu, a credit analyst at Standard & Poor's.
"Some small and medium-sized companies may find it increasingly hard to maintain their competitive positions when lenders and investors become cautious about higher-risk credit. But large and well-capitalized developers will continue to grow by acquiring land at deflated prices and by accessing funding."
huyuanyuan@chinadaily.com.cn