Substandard products can pose a serious threat to customers' sight, experts tell Yang Wanli in Beijing.
It is 2:30 pm on a Wednesday. Xidan, one of Beijing's largest shopping areas, is swamped with trendy adolescents and 20-somethings all looking for the latest fashion in shoes, clothes and accessories at bargain prices.
Many of them are especially in the hunt for cosmetic contact lenses, a craze that made it to the mainland a few years ago.
The lenses are popular because they enhance the color of the iris, making the eye appear brighter or larger, and in some cases entirely changing its color.
Although unregulated, central authorities last month promised to reclassify the product to ensure those sold on the Chinese market meet strict safety standards in the future.
Until then, however, health experts warn that consumers and traders are largely blind to the risks that shoddy contact lenses pose, and say youngsters are in danger of sacrificing their sight for fashion.
Cosmetic lenses can be bought almost anywhere in China, from trained optometrists to small accessory stores, which offer them alongside nail polish, face glitter and hairclips.
"We have dozens of colors, so you will at least find one suitable for you," said a saleswoman called Zhang at Mingzhu shopping center in Xidan. The most expensive pair at her shop cost 90 yuan ($15). "The gray and black colors are very popular.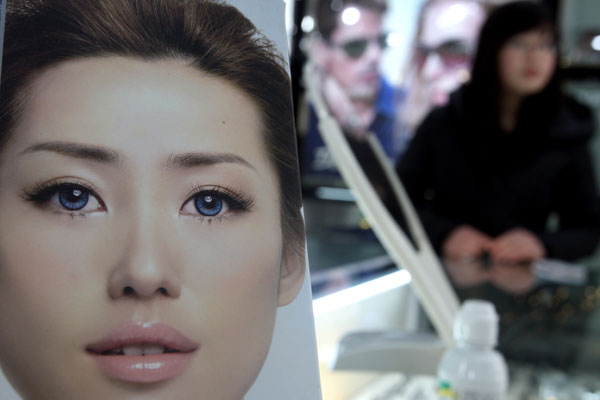 Concerns over the quality and safety of contact lenses are growing as they become increasingly popular. Wang Jing / China Daily