China's
Ministry of Railways
are considering cutting ticket prices for the new bullet train services, which begin on April 18, after disappointing initial sales.
Related readings:


 China starts selling bullet train tickets


 Sixth railway speed boost tested


 Railway ticket prices need gov't control

 China to test 500kph homegrown maglev trains
The bullet trains promise to reduce journey times by an average of two hours between major cities with speeds of 200 to 250 kilometers per hour.
But fares were 50 percent higher than the current express trains because of "greater costs, faster speeds and better service", said Wang Yongping, spokesman with the Ministry of Railways.
Tickets for the first bullet train services went on sale on April 14, but in some cities sales have been sluggish partly because of the high prices, it is believed.
"We have noticed the public opinion about the ticket prices and will consider slashing prices on the basis of market conditions in the future," said Wang.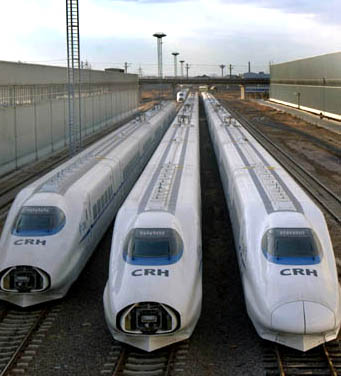 Brand new homemade high-speed trains CRH are seen at a railway station in Jinan, East China's Shandong Province, April 12, 2007. The CRH trains which could run at least 200km per hour, will serve on high speed routes between major cities after the sixth nationwide railway speedup from April 18. [Xinhua]


Ticket shortages will be alleviated during the May Day holiday as an additional 340,000 seats will be provided every day to make traveling more convenient, said Wang.
The latest round of the "speed boost" will increase the national railway passenger capacity by 18 percent and cargo capacity by 12 percent.
"But it will not be possible for China to completely eliminate the shortages until 2020 when the country's railway network lengthens to 100,000 kilometers," said Wang.