Samsung's Chinese AI digital assistant Bixby launched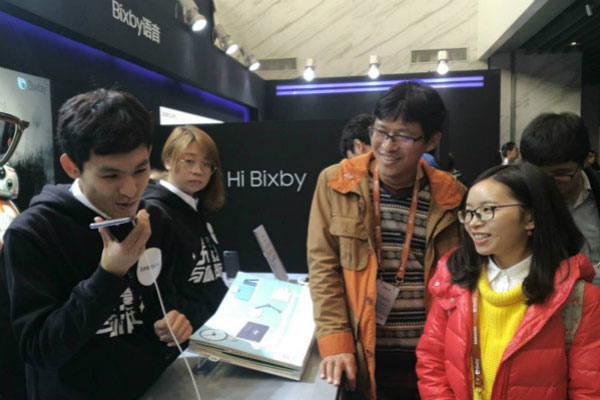 A Samsung staff shows how to use voice to command Bixby in Beijing, Nov 21, 2017. [Photo by Zhu Lingqing/chinadaily.com.cn]
Samsung Electronics launched the Chinese version of its artificial intelligence digital assistant Bixby in Beijing Tuesday.
It will be available in Samsungs Galaxy S8 and Galaxy Note8 from Nov 30, the company announced.
Bixby, based on AI technology and having four major functions including talk, see, recommend and remind, can accept voice commands or answer questions such as "sing a rap song", "set the alarm for 6 am tomorrow morning" or "should I wear a mask today", according to the company.
Gyehyun Kwon, president of Samsung Greater China, said at the event that presenting Samsung's AI-based Bixby to Chinese customers is very significant to the company.
"Chinese President Xi Jinping mentioned in his report at the 19th National Congress of the Communist Party of China that the country will promote integration of the internet, big data and artificial intelligence to drive the growth in economies, pointing out AI industry will become a new growth point to promote national development," Kwon said.
"As a global leader in AI, Samsung is also actively responding to the policy directions and hopes to make a small contribution to China's AI development and the related industries," he added.
Kwon said competition in the smartphone industry in recent years focused too much on the design of phones, such as the thickness, rather than technologies that can promote human society.
"In the coming era of the 5G network, the internet of things will become a trend in the future and AI technology will become the core technology of industrial development," Kwon said.
"Compared with other voice assistants in the market, Bixby talks in a more natural way, just like your best partner," Zhang Daijun, president of Samsung R&D Institute China, said at the launch event.
Bixby not only works within Samsung apps, but also supports more than 18 popular Chinese third-party apps, such as the video-streaming site iQiyi, map and navigation platform Baidu Map and payment platform Alipay.
To open Bixby, users have a few different options, which include quick pressing the dedicated Bixby button on the left side of the phone and giving voice commands, long-pressing to open Bixby Home or accessing the assistant through the camera.
Ke Huan, a Samsung employee, told China Daily Website that one special feature of Bixby is it can understand users' commands in context.
"If I ask Bixby 'show me the weather' first and then say 'how about Xi'an', it will understand I want to know how the weather in Xi'an is," Ke said.
The Chinese Bixby will also be available on Samsung's next high-end clamshell phone W2018.