With eye on AI, Sogou debuts on New York Stock Exchange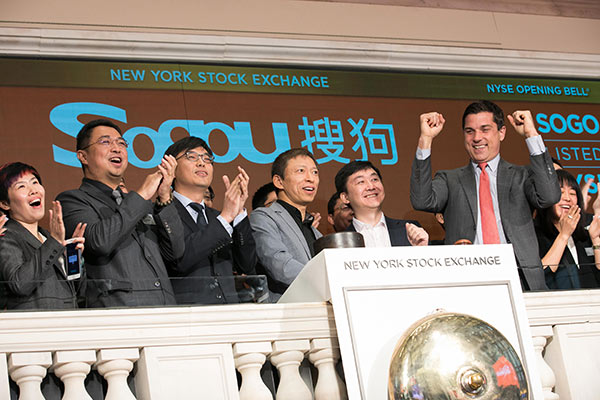 Wang Xiaochuan (behind gavel), CEO of Sogou Inc, and Zhang Chaoyang (center, in gray suit), chairman and CEO of Sohu.com, ring the opening bell at the New York Stock Exchange along with other company employees on Nov 9, 2017.[Photo provided to chinadaily.com.cn]
Sogou, China's second-largest search engine, raised $585 million in an initial public offering in a bid to accelerate the use of artificial intelligence (AI) in its business.
The stock, listed on the New York Stock Exchange under the symbol SOGO, was priced at the top of its $11-$13 range for its 45 million American depositary shares (ADS).
Shares then moved higher on Thursday, closing at $13.50, up close to 4 percent.
"Today's IPO is a milestone for our company," said Wang Xiaochuan, CEO of Sogou. "It's a recognition of the team's efforts in the past and marks a new start for us to make more innovations on a bigger stage in the age of AI."
Sogou has granted its underwriters a 30-day option to purchase up to an additional 6.75 million ADS to cover overallotments. JP Morgan, Credit Suisse, Goldman Sachs and CICC were among the top underwriters of the offering.
Wang said the company intends to use the proceeds to increase investment in AI development, improving cooperation with companies that could provide exclusive and original data sets as well as research and marketing. Wang also said he hopes the IPO will make it easier to collaborate with US tech companies.
The Beijing-based company is a unit of China's Sohu.com Inc, an internet service company that includes search and gaming platforms. Sohu.com will remain Sogou's controlling shareholder after the IPO.
"Under the lead of Xiaochuan, the (Sogou) team has been pushing forward for innovation in technologies and products and established competitive advantages to redefine the search by AI and big data," said Zhang Chaoyang, CEO of Sohu. "And Sogou has successfully developed its own user base in the past; its input method has 300 million daily active users already."
Sogou Search is the second-largest search engine in China by mobile queries, and Sogou is the fourth-largest internet company in China, based on monthly active users in September, according to iResearch.
The company, which competes with Baidu, reported net income of $66.7 million for the nine months ended Sept 30, compared with $45.4 million for the same period a year earlier.
Backed by Tencent Holdings, Sogou has benefited from being the default search engine on various Tencent products that provide general search offerings, such as the Mobile QQ Browser, qq.com, WeChat and the PC Web directories daohang.qq.com and hao.qq.com.
"The core products of Sogou are two very important channels in terms of human-machine interface – the search engine expresses information and the input method collects information," said Wang. "With the further advancement of AI development, I hope our products can help our users understand and interact with information better."
Zhang said the company is ready to do more to compete in an intense market and needs to expand its users and advertising bases.
Sogou is the second major Chinese tech stock to list this week after Tencent-owned China Literature debuted in Hong Kong on Wednesday.
Xinhua contributed to this story.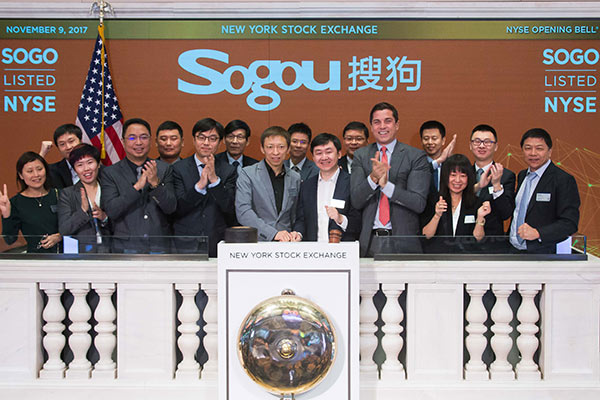 Wang Xiaochuan (behind gavel), CEO of Sogou Inc, and Zhang Chaoyang (center, in gray suit), chairman and CEO of Sohu.com, ring the opening bell at the New York Stock Exchange along with other company employees on Nov 9, 2017.[Photo provided to chinadaily.com.cn]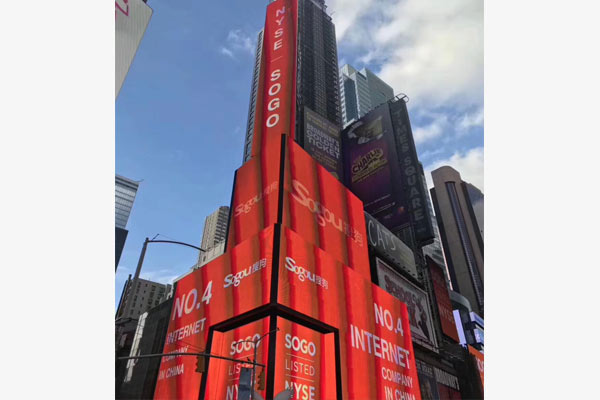 Sogou, China's second-largest search engine, got listed on the New York Stock Exchange on Nov 9, 2017. [Photo provided to chinadaily.com.cn]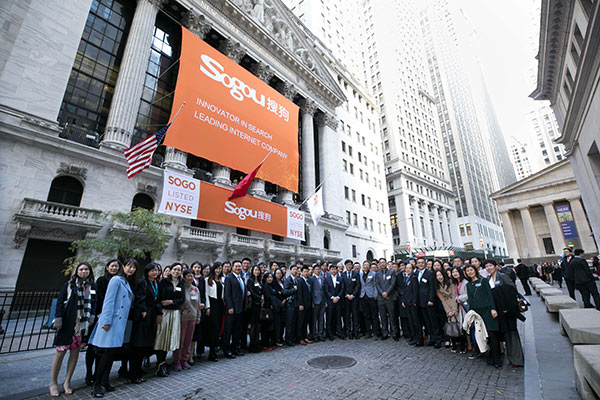 Sogou, China's second-largest search engine, got listed on the New York Stock Exchange on Nov 9, 2017. [Photo provided to chinadaily.com.cn]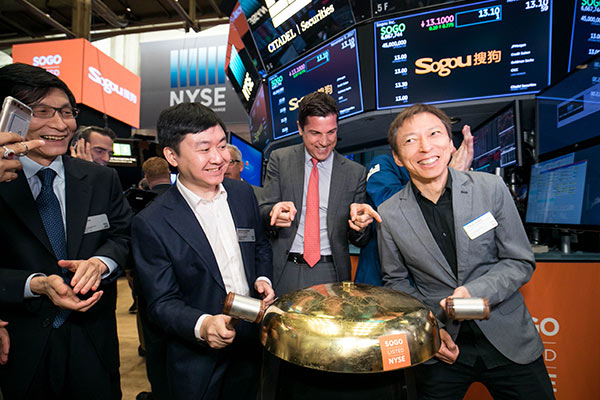 Sogou's IPO price was set at the top of its $11-$13 range for its 45 million American depositary shares. [Photo provided to chinadaily.com.cn]