Nvidia to step up self-driving focus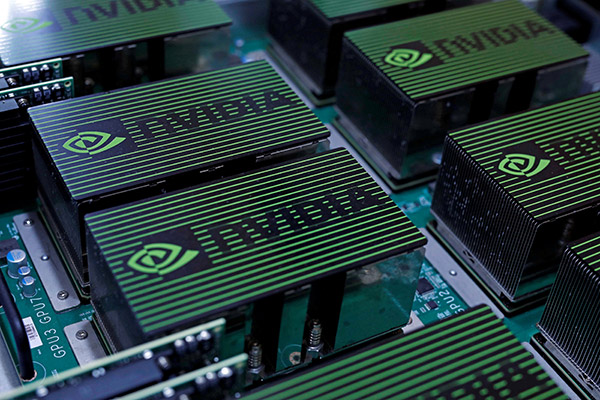 The logo of Nvidia Corporation is seen during the annual Computex computer exhibition in Taipei, May 30, 2017. [Photo/Agencies]
Nvidia Corp, the world's biggest maker of graphics chips used by computer gamers, will step up efforts to tap into opportunities created by self-driving and the big data industry in China.
Jensen Huang, founder and CEO of Nvidia, said on Wednesday that China is the one of the fastest-growing markets for the United States semiconductor maker.
"No industry has achieved what China's computer and IT industry has achieved in 10 years. No consumer market has achieved what China has achieved in 10 years," Huang said.
Nvidia is the leading supplier of graphics processors, or chips that help enable high-definition images on computer games. As artificial intelligence demands bigger computing powers, the US company is leveraging the advantages of graphics chips to help accelerate nascent technologies from voice recognition to self-driving cars.
In China, it partnered with the search engine giant Baidu Inc to accelerate the development of autonomous vehicles. Baidu used both Nvidia's chips and solutions in its Apollo project, which is designed to open its autonomous driving platform to partners.
Nvidia has also invested in TuSimple, a Chinese startup that offers autonomous driving solutions for trucks.
Huang said many elements, including data and in-car operating systems, are important to the development of self-driving, but a holistic system is the key.
"We need to create a wholly integrated system, from architecture, AI algorithm, technologies for safety, cloud technology, to sensors, so that a car can operate safely," he added.
Nvidia developed a self-driving platform called Drive PX, and carmakers increasingly look to it to run the data-intensive deep learning calculations, though many of these projects are still in the pilot stage.
It is also muscling in to the big data industry, which is demanding more chips used in big data centers. That is the most profitable business for its rival Intel Corp.
Chinese tech heavyweights such as Baidu, Alibaba Group Holding Ltd, and Tencent Holdings Ltd are using Nvidia's technologies for their cloud business.
Nvidia posted second-quarter earnings that beat Wall Street estimates: $2.23 billion in revenue on earnings of 92 cents per share, versus estimates of $1.96 billion in revenue on earnings of 70 cents per share.