Siasun eyes overseas targets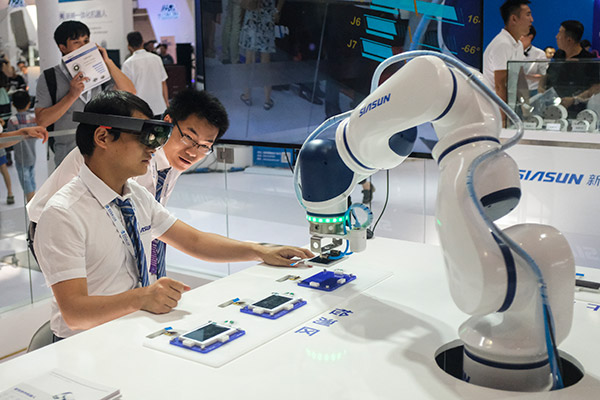 Employees of Siasun Robot & Automation Co use a robot and special eye gear to demonstrate phone repairs during the World Robot Conference held in Beijing, Aug 23, 2017. [Photo/China Daily by Akash Ghai]
Robot maker plans $1 billion acquisition deals in Europe and United States
Siasun Robot & Automation Co, China's largest robot maker by market value, will step up efforts to acquire foreign companies, as it strives to become a global robot heavyweight in 2020.
Qu Daokui, president of Siasun, said the company is looking at investing in robot technology leaders in Europe and the United States, with acquisition deals starting from at least $1 billion or euros ($1.18 billion).
"We are interested in companies that have state-of-the-art technologies or have a key presence in the industry chain," Qu said on the sidelines of the 2017 World Robot Conference in Beijing.
According to Qu, the sector is changing so rapidly that no one knows what a robot will look like in five to seven years. Siasun's goal is not to catch up but to innovate on the basis of cutting-edge technologies to outcompete foreign rivals.
Currently, the Shenyang-based company's industrial robots and other products are exported to more than 30 countries and regions. Moreover, two-thirds of Siasun's customers are foreign companies.
"But that is not enough. We plan to build research and development centers in Europe, North America and Japan to accelerate our overseas expansion," Qu said, without offering more details of the ambitious plan.
Last year, Siasun bought Teutloff Training and Welding Education Non-profit Ltd Liability Company, a leading German mechanical engineering vocational school, for an undisclosed sum. The deal gave the company access to Germany's decades of experience in vocational training.
It has also teamed up with Israeli companies and universities in a China-Israel robot research institute in Guangzhou, Guangdong province. They are making joint efforts on the R&D of technologies such as artificial intelligence which Qu billed as of great importance to robots by giving them "wings".
Siasun's intensified efforts to go global came as Chinese robot makers are making steady progress in technology and key robotics components, boosting their competence in the international arena.
According to the Ministry of Industry and Information Technology, China is now on par with foreign countries in voice and image recognition technologies. Also, about 50 percent of domestic robots are equipped with homegrown servomotors, a key element of sophisticated automated machines, solving the technological bottlenecks that impede the whole industry's development.
On Wednesday, Siasun also unveiled its latest in-house control panels, which are equipped with artificial intelligence capabilities. It also officially entered the medical robot sector with new products.
Luo Jun, CEO of the International Robotics and Intelligent Equipment Industry Alliance, a Beijing-based industry association, said after years of development, many Chinese robot makers are venturing out into overseas markets but more efforts are needed to beef up R&D to gain a presence in foreign countries.