Tencent's profit jumps 68%, revenue 59%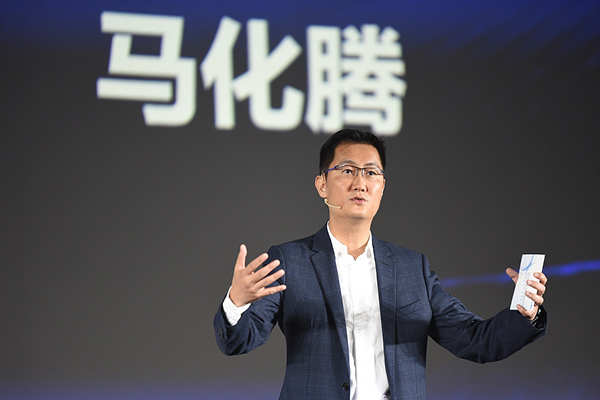 Tencent Chairman and CEO Pony Ma Huateng attends 2017 China "Internet Plus" & Digital Economy Summit held in Hangzhou, Zhejiang province, April 20, 2017. [Photo/VCG]
Gaming-to-social networking conglomerate Tencent Holdings Ltd reported on Wednesday a solid quarter bolstered by exceptional performances in games, digital advertising and payment services.
The Shenzhen-headquartered firm said net profit jumped 68 percent year-on-year to 18.3 billion yuan ($2.72 billion) in the three months ended June 30, while revenue advanced by 59 percent to reach 56.6 billion yuan.
Smartphone games grew by 54 percent year-on-year to 14.8 billion yuan in revenue, which for the first time exceeded PC client games revenue.
The growth was driven by existing titles like King of Glory, and new titles such as the China version of Contra Return in the Action genre, Dragon Nest Mobile and Legacy TLBB Mobile in the RPG genre.
"While our games business continued to grow, we have stepped up our effort to ensure users play games in a healthy manner," said Tencent Chairman and CEO Pony Ma in a statement.
The company has imposed a series of controls to limit the playing time of gamers below 12-year-old and those up to 18 years old.
On the social media front, user number of its hit messaging app WeChat climbed steadily to 963 million, cementing its indisputable dominance in the country's social media market.
And it has been successful at monetizing that user base. Digital content revenue jumped 51 percent to 12.9 billion yuan during the quarter, primarily bolstered by the prevalence of virtual gifting within live broadcast, video subscriptions and music services subscriptions.
Online advertising, which advanced by 55 percent year-on-year in quarterly revenue, has exhibited its potential to be the future growth driver at Tencent. Advertisers in about 28 industries, including travel, retail and entertainment, can place their campaigns on WeChat's newsfeed feature called Moments.
It also recorded 177 percent year-on-year growth primarily buoyed by payment and cloud services. Its payment unit Tenpay currently accounts for nearly 40 percent of China's mobile payment market, coming in as a close second to Alibaba's Alipay, according to iResearch.
Tencent shares surged 1.38 percent to close at HK$323 on Wednesday in Hong Kong, after subsiding from an all-time high HK$328.60 a week ago.