Big data and AI look certain to transform medical profession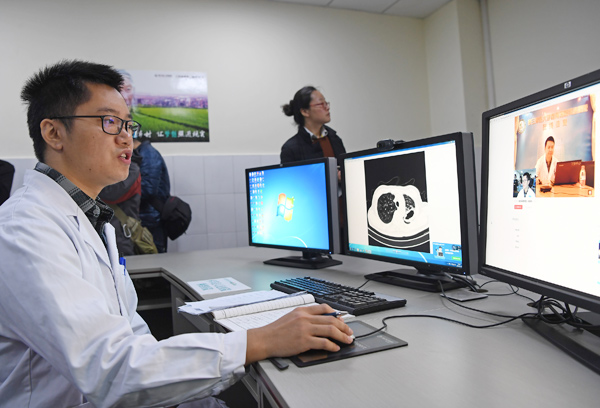 A doctor uses Ali Health's online healthcare system at the People's Hospital in Fengjie, Southwest China's Chongqing municipality. [Photo/Xinhua]
Ali Health is focused on nurturing a big data system to upgrade its existing medical operation.
Last month, the subsidiary of Alibaba Group Holding Ltd wheeled out its cloud platform in cooperation with Wanli Cloud Medical Information Technology Co Ltd in Beijing.
This will forge a link between hospitals at grassroots level, patients and medical professionals in fields such as imaging services.
In addition, an artificial intelligence, or AI, system has been built into the platform. Known as "Doctor You", it can help medical professionals with clinical diagnosis, as well as acting as a training outlet.
"AI technology should improve the working efficiency of doctors and reduce the rate of misdiagnosis," said Wang Lei, the chief executive officer of Ali Health. "It will soon enter hospitals to help medical professionals."
Big data is key to Ali Health's plan.
During the past few years, it has become a vital pillar of the information industry, and is used to crunch vast amounts of complex statistics to show patterns and trends in business and consumer habits.
The term has percolated into nearly every aspect of working life since it was coined in the 1990s as a way of measuring efficiency. But it can also be used to produce detailed information on the personal habits of customers or in this case patients.
"With big data and the internet, we plan to build a whole healthcare industry ecosystem, including services, a medical e-commerce platform, personal health management and insurance," Wang said.
"We tend to provide comprehensive healthcare solutions to improve the efficiency of seeing a doctor or buying drugs," he added.
Established in 2014, Ali Health is small compared with other parts of Alibaba, but it is still recognized as a crucial component of the group.
Listed in Hong Kong, it has just 300 staff with almost half of them engineers.
"We are now concentrating on techniques and platforms that will transform the sector," said Wang, who added that healthcare big data systems are still in their infancy across the world.
Still, Ali Health's main online business, including pharmaceutical e-commerce and intelligent medical care, is expanding.
Figures released by the company showed that e-commerce revenue reached 378.8 million yuan ($56.5 million) in the last fiscal year, which ended on March 31. This accounted for 79.7 percent of total revenue, which was in excess of 475 million yuan.
But despite these numbers showing a more than 739 percent increase on the previous year, Ali Health reported a net loss of 98.33 million yuan.