Healthcare gets online checkup to boost sales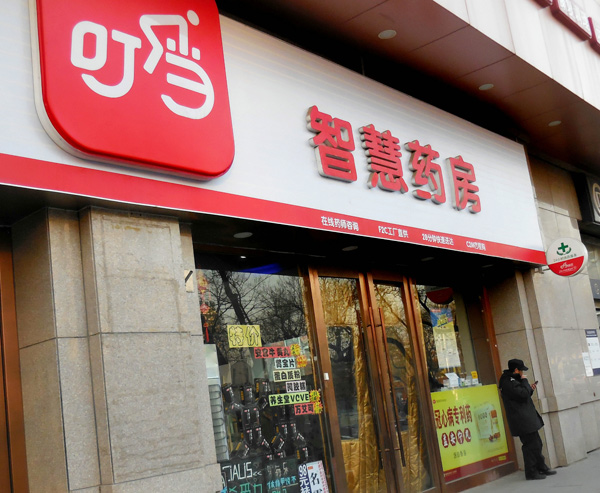 A retail store owned by online drug-selling company Dingdang Medicine Express (Beijing) Technology Co Ltd. The company promises to deliver orders within 28 minutes. A JING / FOR CHINA DAILY
Internet drug stores look set to expand as medical reforms open up $6.8b market
There used to be a time when prescription drugs were only available in hospitals and healthcare centers in China.
If you were ill, you had to physically see a doctor before you could pick up your tablets or medicine.
But those days appear to be nearly over as medical reforms open up the market for online companies.
"China's medical policies concerning online pharmaceutical stores are being relaxed step by step," said Fu Guang, president of Baheal Pharmaceutical Group, which focuses on healthcare investment.
Statistics from the 2017 China Medical Market Development Blue Book showed the online drug selling market is expected to expand rapidly.
By the end of this year, the business-to-consumer sector for China's pharmaceutical industry is predicted to reach 45.77 billion yuan ($6.83 billion), an increase of 70.9 percent compared with 2016, the book reported.
"Indeed, this policy of opening up the market will be the main growth engine for the industry," Fu said.
Medical reform has gathered pace in the past few years as the healthcare sector has evolved and become more sophisticated.
China's aging population is expected to reach 250 million in 2017, while patients with chronic illnesses will also increase significantly.
"This in turn will stimulate the development of the healthcare market, especially online drug stores," said Wang Licheng, the chief executive officer of Dingdang Medicine Express, a well known online-to-offline platform.
He stressed that internet pharmacies had improved considerablely during the past few years, with new technology playing a key role in improving logistics and customer experience.
But Wang felt that the online sector still needed to mature if it was to attract new customers and expand market share.
"The simple business-to-consumer model of selling drugs on the internet cannot survive anymore," he said.
"Online drug stores must combine with offline outlets because of the nature of the industry," Wang added.
Part of the problem is delivery time. Long-distance transport chains are totally impractical as the majority of patients, or customers, usually need their prescriptions urgently.
Data revealed there were 450,000 drug stores in China with a sales volume of 350 billion yuan last year.
Online pharmacies accounted for just 3 percent or 4 percent of that sales volume, which is tiny.
Still, the trend appears to be moving toward partnerships, and mergers and acquisitions, as many of the established bricks-and-mortar brands are losing money.
Vipshop Holdings Ltd, the world's leading online discount retailer and a popular e-commerce site here, last month announced plans to buy drug store chain Guangzhou Haoxin Pharmaceutical Co Ltd.
In the past few weeks, A.S. Watson Group, the largest health and beauty retailer in Asia and Europe, was reported to be poised to enter the online pharmaceutical business.
The Hong Kong-based company is looking for new areas to expand its business after experiencing leadership changes and a decline in traditional sales.
Investment is also pouring into the online healthcare sector after the government's policy reforms.
Back in May, Guangdong Jianke Pharmaceutical Co Ltd received $50 million in funding after receiving $100 million from Crescent Point Group last year.
"We will focus on the layout of internet medical systems and continue to explore smart health service after this round of financing," said Xie Fangmin, chief executive officer of Jianke.