JD Finance spinoff paves way for listing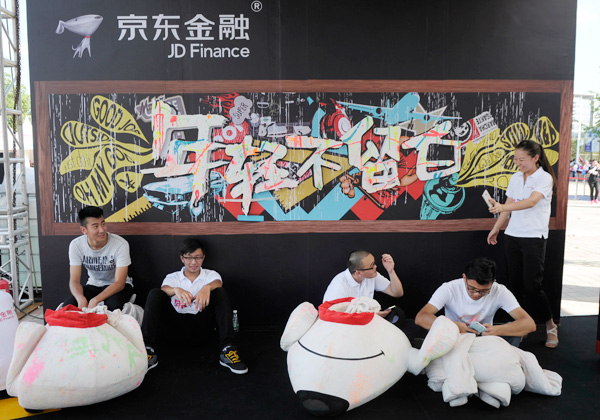 JD Finance promotes its online financing products to consumers in Nanjing. AN XIN / FOR CHINA DAILY
JD Finance, the finance unit of China's second biggest e-commerce player JD.com Inc, has been deconsolidated from JD as a result of the reorganization as of June 30, 2017, which is expected to pave the way for the former's eventual listing.
Accordingly, JD Finance's historical financial results for periods prior to July 1 are reflected in JD's consolidated financial statements as discontinued operations, according to the company's second quarter financial results.
Analysts said JD Finance's spinoff is seen as a preparatory move towards it listing on a domestic stock exchange, as well as obtaining more financial licenses.
Yu Baicheng, an expert at wangdaizhijia.com, a web portal that tracks the internet finance industry, said the move will let JD Finance develop its businesses more independently.
"The spinoff will allow JD Finance to move more aggressively, as it could carry out more financial business easily, as well as help JD focus on its core e-commerce business," said Li Zichuan, an analyst at Beijing-based internet consultancy Analysys.
"We don't rule out the possibility that JD Finance will seek an initial public offering on a domestic stock exchange in the next few years," Li added.
JD Finance has sought privatization and a split from JD at the beginning of last year. In January 2016, JD Finance raised 6.65 billion yuan ($992 million) from investors such as Sequoia Capital China, China Harvest Investments and China Taiping Insurance.
Its business scope now covers supply chain finance, consumer finance, wealth management, crowd funding, insurance and security. The company is applying for financial service licenses as the country's middle class surges in size.
In November 2016, JD announced it would reorganize JD Finance, to make it a wholly Chinese-owned entity to facilitate its development in certain licensed financial service businesses and take advantage of the liquidity provided by the Chinese capital market.
In March, JD agreed to sell its 68.6 percent stake in its finance unit, JD Finance, for 14.3 billion yuan in cash by the middle of this year, and post-deal, JD will hold neither legal ownership nor effective control of JD Finance.
The spinoff of JD's financial arm is similar to that of Ant Financial Services Group, the financial affiliate of e-commerce giant Alibaba Group Holding. It was split off from Alibaba and obtained business independence in 2014, making it a powerful financial player.
JD also announced that its net revenue reached 93.2 billion yuan in the second quarter, an increase of 43.6 percent year-on-year. Its gross merchandise volume in the second quarter increased 46 percent to 234.8 billion yuan, from 160.4 billion yuan in the same period last year.