Yu'E Bao cuts maximum personal investment ceiling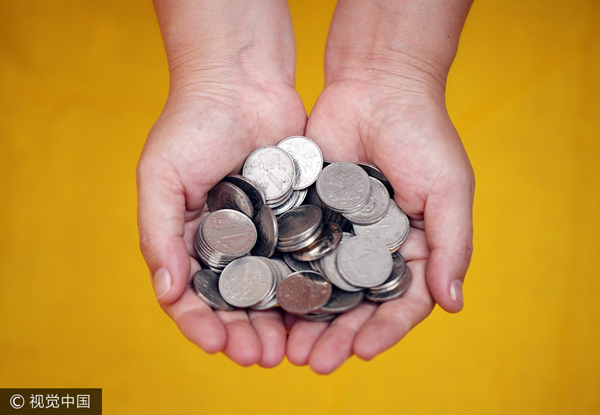 Alibaba's Yu'E Bao fund cut its maximum holding ceiling for individual investors on Aug 14. [Photo/VCG]
Alibaba's four year old Yu'E Bao fund-which in April became the world's biggest money market fund-on Monday cut its maximum holding ceiling for individual investors, in a move analysts said was in preparation for a potential strengthening of rules covering money market funds in China.
Tianhong Fund Management, which manages Yu'E Bao, said in an announcement that the personal investment quota had been cut from 250,000 yuan ($37,488) to 100,000 yuan.
The move, the company said, aims to maintain "stable and healthy operation of the fund and protect investors' fundamental profits".
This is the second time that China's online payment platform under Alipay has cut its maximum holding ceiling for individual investors, after it reduced it from one million yuan to 250,000 yuan in May.
Yu'E Bao's assets under management totaled 1.43 trillion yuan at the end of June, accounting for about 28 percent of the combined size of China's money market funds market.
Hua Chuang Securities analyst Qu Qing said it was likely that strengthened policies would soon be implemented to regulate money market funds investing in interbank deposits, which would impact the incomes of money market funds.
"It is likely that in the near future, money market funds will be further regulated after China's securities regulators and financial market watchdogs tightened management of liquidity," said Chen Yue, an analyst with Shanghai-based Tianyu Investment Consultancy.
In March, China Securities Regulatory Commission released a circular seeking public opinion on the liquidity management of funds, and money market funds are one of the key areas for liquidity risk management.
Money market funds, which mainly invest in money market liquidity management tools such as interbank deposits and asset-backed securitization products, have been expanding fast in the past two quarters.
Relatively high incomes have made money market funds particularly popular, while many other assets look riskier and yield less.
According to data from the Asset Management Association of China, the size of money market funds grew from 4.03 trillion yuan at the end of March to 5.1 billion yuan at the end of June, representing 26.6 percent quarter-on-quarter growth, and 41 percent higher than that of the end of 2016.
"Investing in a money market fund feels like you can make money even when you lie down and do nothing at all," said Xie Xiaojun, a 27-year-old investor in Shanghai.
AMAC data showed the average annualized income of money market funds (seven-day-term) is above 4 percent, while the interest rate for fixed deposits is below 2 percent.
But their fast expansion and the significant scale of these investments also carried with them liquidity risks, analysts said.
"The mutual funds market… is not well balanced as money market funds are over-dominating", said AMAC Chairman Hong Lei.
A liquidity squeeze could happen to money market funds, said Pi Huijuan, an analyst with Fortune Securities.
"A liquidity squeeze occurred in June 2013 when interbank interest rate spiked to some 10 percent, and money market funds experienced outflows, and suffered a squeeze," Pi said in a research note.