VR-minded HTC to sell Shanghai plant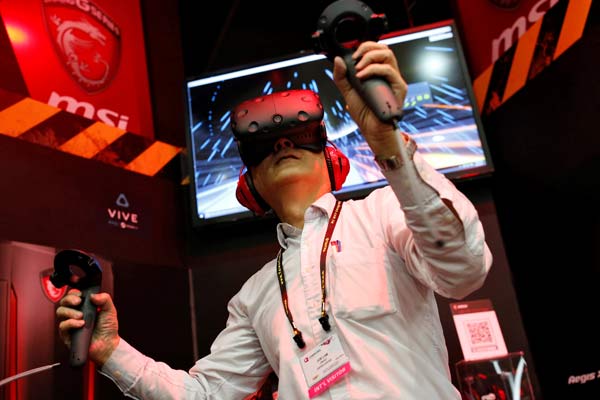 A visitor tries a pair of HTC Vive virtual reality (VR) goggles, during the annual Computex computer exhibition in Taipei, Taiwan. [Photo/Agencies]
Taiwan-based smartphone company HTC Corp announced that it will sell its land and plant in Shanghai for 630 million yuan ($91.5 million), in a strategic move to fund expansion of its fledgling virtual reality business.
The 114,831 square meter smartphone factory will be sold to Shanghai Xingbao Information Technology Co Ltd-and the net gain of the disposal is estimated at about 147.76 million yuan, HTC said.
The decision was made on Wednesday by its board, with the aim of restructuring its operations and assets.
The company said the move was part of its asset rationalization program to improve operational efficiency. HTC added that there were no implications for its business or staff levels and its production capacity would remain as planned.
After the sale of Shanghai factory, HTC's smartphone production will rely mainly on its Taoyuan factories in Taiwan, and the net gain is expected to be invested on its VR unit, HTC Vive.
Zhao Ziming, an analyst at Beijing-based consultancy Analysys, said the move showed HTC's resolve to gear up its expansion in the emerging VR business, in order to gain a leading position in the market.
"In recent years its smartphone business has declined rapidly, especially in the Chinese mainland market," Zhao said. "After selling the Shanghai facility, the company will be able to use more resources to develop the VR business."
Zhao said the sale would likely impact HTC's smartphone business and there could be changes to staff deployment.
HTC used to own several factories across the Chinese mainland and in Taiwan, which produce its own brand of smartphones.
The Shanghai plant, which stands out as one of the key manufacturing facilities, was reportedly able to produce up to 2 million smartphones per month.
But analysts said that the current demand for HTC smartphones does not appear to support that level of installed capacity, and it was proving hard for the Taiwan phone maker win back its past glory in the global smartphone sector.
HTC reported in January that its annual revenue declined by more than a third in 2016. Last year the company earned NT$78.16 billion ($2.55 billion), a fall of 35.77 percent, on revenue of NT$121.68 billion.
Zhao said the move also showed that HTC was pinning its hopes on its VR brand, HTC Vive.
"In recent years, HTC's priorities have transferred from the smartphone to the VR business," Zhao said.
Ma Si contributed to this story.