HTC Corp has allocated $10 million in funding to drive virtual reality content and technologies that will create a positive impact and change in support of the United Nation's Sustainable Development Goals by 2030.
The VR For Impact initiative, launched in January, is designed to encourage more developers to work on VR-enabled ideas that can help eradicate poverty around the world, establish peace, provide prosperity, and protect the planet's ecosystem and wildlife.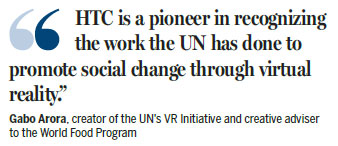 The project revolves around the idea that VR is a powerful medium to help promote empathy for others. VR, which can create an immersive, 360-degree digital world, allows users to experience things from another person's perspective, broadening their perspective of the subject in question.